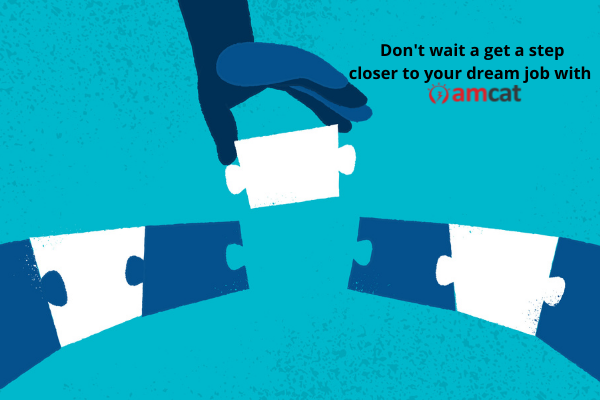 Today's job market is highly competitive, and academic achievements alone will not be enough to make an impression on a recruiter. Apart from the grades, something else is required to inform the recruiter about the candidate's readiness to handle the challenges of the corporate world.
AMCAT is an employment test that brings applicants and recruiters together. With AMCAT, you can easily determine your skills and abilities, showcasing the recruiter how capable you are in comparison to other candidates.
Moreover, you can use your AMCAT score to apply for exclusive jobs on the AMCAT portal and find the right job for you. You can take the AMCAT exam from the comfort of your own home. The only thing you'll need is a good internet connection and a laptop or desktop computer.
When is the best time to start studying for the AMCAT Exam?
It is never too late to take the AMCAT exam; you can take it whenever you want and whenever you feel prepared. It is recommended for students to begin studying for the exam in their final year of college so that they are fully prepared for the exam by the time they graduate. On the other side, experienced applicants can take the AMCAT exam while working on improving their career prospects, as AMCAT will help them advance in their careers.
The most important question now is when and how to study for the AMCAT exam. Here are some tips to help you succeed in your preparation.
It makes no difference which exam you are taking; what matters is that you do your best. Moreover, you can do anything with consistency and effort. Sample question papers for the AMCAT exam are available online to help you take your preparation to the next level.
The Problem Of Finding A Suitable Job
Companies and individuals both face a similar issue in this age of increased competition, since thousands of candidates apply for every job position these days, which can be stressful.
Do you wonder how can companies find talented employees quickly? Going through thousands of resumes or conducting interviews manually takes a significant amount of time and work.
What are some ways for good candidates to stand out to organizations? It's pointless to show a college transcript or a résumé because they don't help employers differentiate between candidates.
Register for AMCAT | India's Leading Fresher's Assessment And Job Site (myamcat.com)
The Solution To The Problem – AMCAT
AMCAT helps both employers and job seekers to handle this problem quickly and effectively.
Scores can be immediately compared across multiple candidates using a standard aptitude test (i.e. a common aptitude test completed by millions of candidates), allowing recruiters to quickly shortlist promising candidates. Not just this, but a good applicant might stand out among their peers by performing well in AMCAT.
Since every test taker is evaluated on the same parameters, AMCAT is fundamentally fair. As a result, hiring is based only on merit.
AMCAT has been passed by more than 2 million students since its commencement. Apart from that, more than 1.5 lakh interview calls are made each month depending on a student's AMCAT score. AMCAT helps in having a fair selection process since it bridges the gap between companies and the candidates.