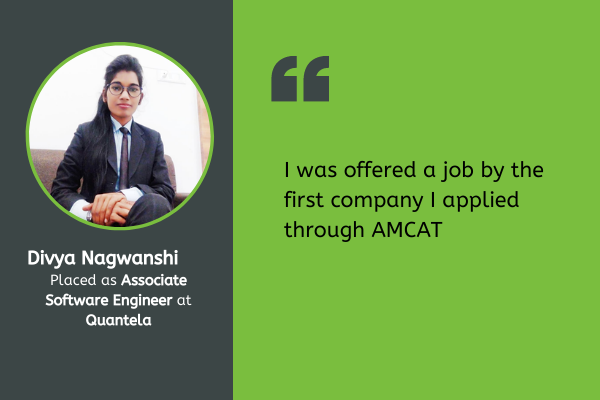 Divya told us about her first job which she got with the help of AMCAT. She talked about how the exam helped her in obtaining a suitable job. We've included the complete conversation with Divya, in the article where she discussed her challenges and the assistance, she received from AMCAT.
Would you like to learn more about her journey? Then keep reading to find out more about it.
Divya, why did you opt for AMCAT?
Divya told us she opted for AMCAT for bigger brands, better salaries, relevant job profiles, and suitable job locations.
Register for AMCAT | India's Leading Fresher's Assessment And Job Site (myamcat.com)
Tell us about the job role & organization in which you got placed?
"I got placed as Associate Software Engineer at Quantela Technologies Pvt Ltd, told Divya."
How did AMCAT help you in getting a job?
"I was shortlisted for the interview process in Quantela Technologies Pvt Ltd through AMCAT. The job profile being offered was Associate Software Engineer. After that, I got multiple shortlisting mails through AMCAT."
While looking for a job, what all difficulties did you face? Please elaborate.
"I did not face any difficulty while looking for a job. Earlier, I was placed through college placements. But AMCAT offered a lot of job suggestions and helped a lot in finding out the jobs which interest my fields, which successfully helped me to showcase my skills to the right company, claimed Divya"
How did the AMCAT feedback report help you assess your performance?
"The AMCAT feedback report gave me insights on my weak and strong areas, where I can improve."
Would you recommend AMCAT to others?
"Yes, Yes, I'll definitely recommend AMCAT to others."
Why do you think AMCAT is a good pick?
"With good AMCAT scores, I developed my technical skills.
It gives us the AMCAT feedback report which is helpful.
Good AMCAT scores build self-confidence.
It helped me crack other off-campus drives as well.
Last but not least it brings job opportunities for candidates, concluded Divya"
If you have any queries, feel free to get in touch with us.
We Wish You All The Best!