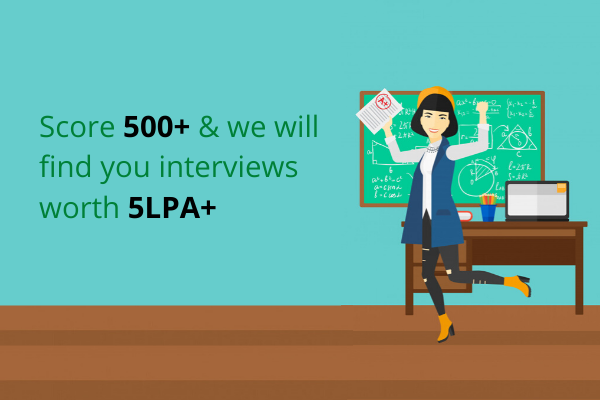 AMCAT PRO: The Interview Assurance Program by Aspiring Minds comes with a unique guarantee of minimum three interviews in three months. Failing which, you will get your money back. However, this promise is not the only thing that makes AMCAT PRO so sought after.
Whether you are looking for good IT jobs or marketing jobs or jobs in any other field, AMCAT PRO is for you. But why should you choose AMCAT PRO, why not go for the regular AMCAT? Can you get assured IT jobs through AMCAT PRO?
Let's find out.
AMCAT PRO or AMCAT 
AMCAT PRO and AMCAT both host a variety of jobs across all the sectors. Whether you are looking for IT jobs, Mechanical jobs or Civil jobs, AMCAT is the right choice for you.
However, with AMCAT PRO you get a few advantages that you don't get with the regular AMCAT exam. For example, with AMCAT PRO, our team of experts will calculate the jobs best suitable for you, curate them and then send them to you. So, you just need to relax, prepare for the interviews coming your way while we find the best possible opportunities for you.
Furthermore, you will also get the guarantee of minimum three interviews in three months or we will return your money back.
AMCAT doesn't come with any such promises. With AMCAT, you need to search and apply for jobs on your own using your AMCAT score. There is also no interview guarantee.
Good IT jobs through AMCAT PRO
At the moment, 90% of the jobs hosted on the AMCAT jobs portal are IT jobs. Not just that, these jobs are each unique, pay well and have the potential to help you grow in your field.
From 3.5 LPA jobs to 12 LPA jobs, numerous jobs require you to have a good AMCAT score. And, this is exactly where AMCAT PRO comes in.
You can check out some of the top IT jobs on the AMCAT portal. 
AMCAT PRO assures minimum three job interview offers in these top IT companies and more, basis your AMCAT PRO score. You can consult the table below to understand the score and membership that you qualify for basis your score.

Depending on which membership you qualify for, we will send relevant IT jobs to you.
Note:- If you score 400 marks in one module and 550+ in rest of the modules, you will still qualify for Bronze membership. Similarly, if you score less than 400 marks in any of the modules (less than 16 in case of Automata), then you won't be eligible for the AMCAT PRO benefit.
What about other sector jobs?
AMCAT PRO, while it mostly caters to IT jobs, also hosts and curates a ton of jobs from other sectors. So, whether you are looking for Business Development jobs or Human Resource jobs, AMCAT PRO is the way to go.
Get a good score and AMCAT will curate and send relevant opportunities to you basis your AMCAT score. Of course, that also means that you need to pay extra attention to your AMCAT preparation so that you qualify for the gold membership and are eligible for the 5 LPA+ opportunities.
Is AMCAT PRO for you?
If you are a 2019 batch candidate who wants to start his career with a bang, then yes, AMCAT PRO is most definitely for you.
So, go to the AMCAT PRO portal, fill in your details and book your AMCAT PRO right away.
However, if you are not a 2019 batch candidate but still want to apply for jobs on the AMCAT portal, then you can opt for the regular AMCAT.
Conclusion
If you are looking for good IT jobs, then AMCAT PRO should be your number one choice. AMCAT PRO will curate top opportunities of 5 LPA+ for you to apply. You can also apply for jobs on the AMCAT portal on your own once you have a valid AMCAT score.
All the best!
In case of any confusion or if you have any queries related to AMCAT PRO, feel free to drop in your thoughts in the comments section below.