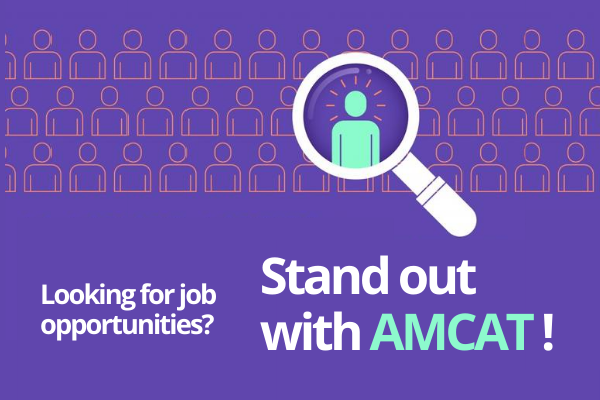 The impact of this global pandemic and actions taken by the government to minimise the spread of this deadly virus has affected businesses and industries across the world. Many companies have already initiated mandatory work-from-home to ensure the safety of their employees.
However, even during this trying time, companies are still recruiting candidates with the right skillset. To keep yourself regularly updated with the relevant job opportunities, you should opt for AMCAT to get timely job alert.
As a job-seeker, searching for a job amid the COVID-19 pandemic will be a Herculean task and you need exclusivity of AMCAT to take your job search to another level. Here is how you can ensure job safety with AMCAT.
AMCAT From Home
As the number of positive coronavirus cases increases, so is the risk of stepping out of your home. However, you can't put a stop on your job search for long, especially when companies are still hiring.
That is why to help you with your job search; you can give the AMCAT exam from the safety of your home. Once you have given the AMCAT exam and scored good, then get ready to welcome exclusive and relevant job alerts.
So, with AMCAT by your side, you don't need to put either your job search or your safety at risk because exclusive job alerts will come knocking on your door.
Preparation Tips
Getting a good score in the AMCAT exam isn't as easy as it sounds. Although AMCAT is not a tough nut to crack, it is always better to go prepared and give you best to get a solid AMCAT score.
In fact, having a good AMCAT score in your kitty will make you stand out from the rest of the candidates. Here are a few tips to help you get an exceptionally good AMCAT score to get the best job alerts.
Go Through The Syllabus
The first thing you need to do after scheduling your AMCAT exam is to go through the syllabus of both the compulsory and optional modules. You can take a print out if you want to and paste it somewhere in your room where it is easily visible.
Make A Timetable
Procrastinating while staying at home might hamper with your AMCAT preparation. That is why you should create and follow a timetable to keep a tab on your progress.
Moreover, having a schedule makes it easier for you to give more time to areas where you need extra attention.
Brush Up Your Basics
AMCAT is a test of your skills and job readiness. So, in order to ace the exam, you need to make sure that your basics are strong.
Rather than mugging up information overnight, you should gradually build up your foundation. This will also help you during your technical interview rounds.
Practice Sample Questions And Give Mocks
Without an adequate amount of practice, you can't crack the AMCAT exam to get a solid score. So, make sure you solve as many sample questions as you can.
Once you are done solving the sample questions, you should move on to prepAMCAT to get a hang of the actual AMCAT exam. Doing this will help you identify the areas where you lack.
Revise And Study Weaker Sections
Give special attention to your weaker areas, go through your notes again and re-attempt the sample questions and prepAMCAT. Keep a tab on your mock scores and spend extra time on these sections.
Good AMCAT Score
In the AMCAT exam, there are 6 compulsory modules and 2 optional modules that you need to ace. To get the best job alerts, your score in the compulsory modules should be –
English
The minimum AMCAT score for this would be
For Engineers – Above 450

For Graduates – Above 500

For MBAs – Above 550
Quantitative Aptitude
The minimum AMCAT score would be
For Engineers – Above 500

For Graduates – Above 500

For MBAs – Above 500
Logical Reasoning
The minimum AMCAT score would be
For Engineers – Above 450

For Graduates – Above 400

For MBAs – Above 425
Aspiring Minds Personality Inventory
The minimum AMCAT score, in this case, would be
For Engineers – Above 550

For Graduates – Above 400

For MBAs – Above 550
Similarly, in the optional modules, you need to score a minimum of 550/900. A good AMCAT score is varies based on the company's requirement. However, you should aim for a score of 550 across all the modules to get exclusive job alerts.
Conclusion
These are some of the things that you need to keep in mind when preparing for the AMCAT exam. Based on your AMCAT score, you will get job alerts.
So, to get the job opportunity from your dream company, then make sure you aim for a high score and get ready to get showered with job alerts.