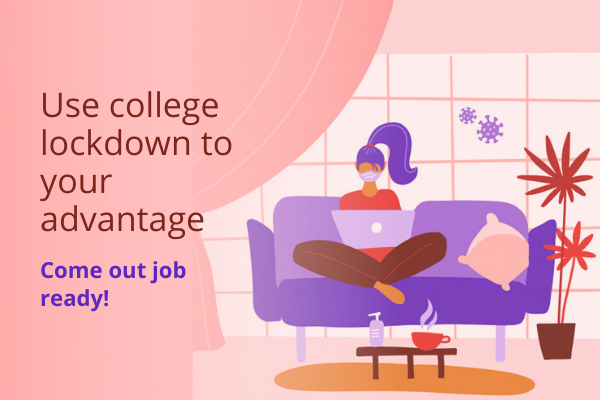 The Coronavirus pandemic has taken over. And, while a lot of people are trying to dispel the despair with memes and jokes on the issue, we understand how scary and unsure these times can be for you. With no college, what will happen to the placements? How will you get job ready and what are the steps you can take to succeed in your career?
Yes, colleges are shut down due to the Coronavirus lockdown but that doesn't have to affect how job ready you are. In fact, this lockdown is an opportunity for you to get ready for your future and hone your skills. Here is how –
Work on your soft skills
Soft skills are often overlooked when students are preparing for their first job. However, soft skills can really make you stand out from the crowd and give you the edge you need to succeed.
Soft skills include but are not restricted to good communication skills, leadership skills, time-management skills, problem-solving skills and adaptability. You can hone most of these skills with practice and by understanding your personality.
Like with the AMCAT Personality Test (AMPI), you and the recruiters get a fair idea of what kind of an employee you will be. Whether you have the required skills mentioned or not. As for building on your communication skills, we would suggest you to read the newspaper and light books (like Harry Potter). Since you have so much time at hand these days, you should spend at least an hour doing some reading exercises.
Understand your strengths and weaknesses
The most crucial step that you can take towards being job ready and carving a successful future for yourself even during these trying times is to understand your strengths and weaknesses.
The more you will know about your shortcomings, the better you will be able to handle them. That's why, take AMCAT from home. This will have a three-in-one benefit for you. 1) One of the key AMCAT preparation strategies is to understand the concepts thoroughly. This will help you prepare for the upcoming interviews and tests that the recruiters might conduct. 2) You can use your AMCAT score to start applying for jobs without having to step out to of your home. This will be your self-induced placement season. 3) The AMCAT feedback report will highlight your strengths and weaknesses in great detail and you will know exactly what to do to ace your job search.
Know what the recruiters want
Getting job ready is not just getting a college degree, you also need to know what the recruiters want. So, go through the job postings of different companies for the profiles you are interested in. Read the job description carefully and see which are the points that you are confidently able to tick.
For the points which you are not very sure about, start working on them immediately. If you need an additional degree to learn and prove yourself as the best candidate, then do that. You have nearly a month in your hands after all. Make the best use of it.
Build your resume
Yes, colleges are closed and you may not get resume tips from your teachers, but that should not pull you down. Collect all the information about you that you think is necessary and relevant for the profile/s you want to apply in. Now, select a resume template that you think will be best suited.
Put all your information and craft an impeccable job resume. Make sure there are no grammatical errors or typos for they can cost you the job. Don't make your job resume too lengthy (it should be a page long for freshers). You can put the content in bullet points to make your resume crispier and more direct. Also, remember to cut the fluff for it won't do your candidature any good.
Note:- You can check out our Resume Writing Service to create a winning resume.
Start honing your interview skills
Even during this lockdown, recruiters are still conducting video interviews and telephonic interviews to hire candidates. Besides, good interview giving skills are never a waste as they can help you in the long run.
So, start honing your interview giving skills. Start by practising in front of the mirror to understand how you look when answering serious questions. Try to pepper your answers with smiles to not look so stiff and have a friendly body language. You can also go through this very popular blog to get an understanding of the most common interview questions. Go through their answers and then ask your relatives or friends to conduct mock interviews with you.
Conclusion
This lockdown is an opportunity for you to grow and build on your skills. Even though colleges have been shut down for the time period, you can still get job ready and walk out of this 21-day period with a great job in hand.
So, stay safe, stay successful and build on your skills.