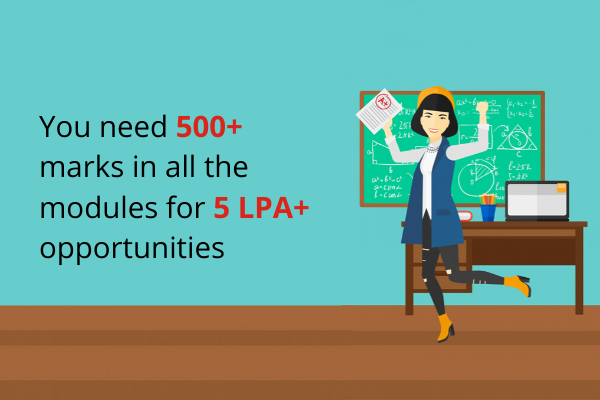 Want to give your job search a guarantee? If yes, then AMCAT PRO is the magic potion that you need.  AMCAT PRO: The Interview Assurance Program comes with a guarantee of minimum 3 interviews within 3 months of giving the exam. And, If we fail to live up to this guarantee, then you will get your money back.
This assurance program is a show of our commitment to your success and job search. We will send you the best tailor-made exclusive interview opportunities from across the country basis your AMCAT PRO score.
But what do we mean by 'basis your score'? And, what is the score required to ace the highest paying opportunities? Let's find out.
The AMCAT PRO membership
Based on your AMCAT PRO exam score across all modules (compulsory and optional), you will be put into one of the three memberships – Gold, Silver or Bronze.

In the above table, you can see the minimum score required for each membership and the CTC basis it. Your lowest score will determine your membership. Below are 3 cases to help you understand it better.
Case 1
If you get 450+ in all the modules but less than 31 in AUTOMATA FIX, then you will be eligible for the Bronze membership.
Case 2
Even if you get 46+ in AUTOMATA FIX and more than 500 in all but one module in which you get 450 marks, you will qualify for Silver membership.
Case 3
Lastly, if you get 500+ in all the modules and more than 46 in AUTOMATA FIX, then you will be eligible for the Gold membership.
However, if you get less than 400 in any of the module or less than 16 in AUTOMATA FIX, then you are not eligible for the AMCAT PRO benefits. You will neither get the guaranteed interview calls nor your money back.
If you want to enjoy the best of AMCAT PRO and qualify for Gold membership, then you need to get 500+ in all the AMCAT modules and more than 46 in AUTOMATA FIX.
So, work hard, aim for the gold and enjoy 5 LPA+ opportunities.
Best of luck!