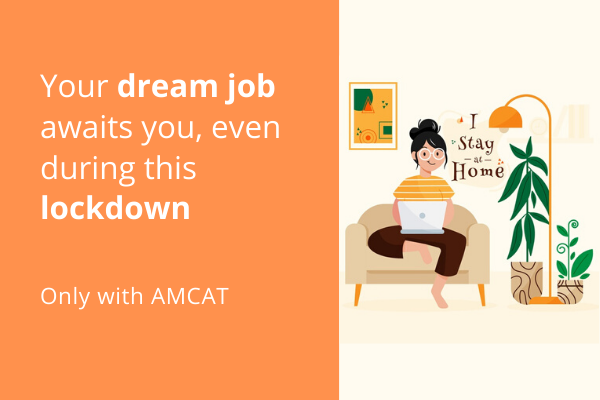 The AMCAT exam is an AI-powered assessment exam that tests the candidates on their skills-set. It is an adaptive test that is recognised the world over by different companies and thus opens up a plethora of opportunities for you.
In the past year alone AMCAT has hosted over 450 companies and even at this moment (lockdown period) there are a lot of companies that are turning to AMCAT to hire the right candidates.
So, whether you are looking for fresher jobs or looking to switch to better job opportunities, AMCAT is for you.
Are you eligible for the AMCAT exam?
If you have graduate or post-graduate degree or are in the final year of college, then you are eligible for the AMCAT exam. There is no minimum marks criterion and even if you have a back and have got no one to turn to, AMCAT will help you.
Also, contrary to a commonly held belief, the AMCAT exam is not exclusive to engineers. In fact, we have Human Resources, Business Development and non-IT jobs in abundance too.
AMCAT for your dream job
AMCAT is a product that speaks for itself as do its happy customers. Shivani, one of our happy customers, recently took the AMCAT exam and was awarded with tons of opportunities. She got shortlisted for jobs for a package ranging from 1.8 LPA to 12 LPA. Not just that, she was also selected by top companies like MindTree and AMDOCS before ultimately opting for a job with Robert Bosch.
Dhiren couldn't sit for campus placements due to a backlog and that is when he turned to AMCAT. And soon things started falling in place for him as Dhiren was shortlisted for multiple opportunities and he ultimately found a good job with 42Hertz through AMCAT.
With Raghuram, it was a different story as he already had a good job in hand through campus placements. However, he wanted more and better opportunities and a job that was closer to his field of interested. That is when he opted for the AMCAT exam and wasn't disappointed. Raghuram ultimately found the opportunity he was looking for at MAQ Software.
So, all in all, the AMCAT exam is for everyone and can help you find your dream job.
FAQs
Can we take AMCAT during this lockdown?
Yes, you can.
Now your home is the new AMCAT test centre as we have moved to assessing candidates from home. All you need to do is to book your AMCAT, choose a suitable date and time and get ready for the exam. You will need a laptop or a computer with a camcorder for it.
Once you make your purchase we will send you the test details and the pointers you should keep in mind for the exam. And not just that, AMCAT now also comes with a FREE certification. We will send you a link of the certifications available in the follow-up emails.
What do you mean by free AMCAT certifications?
At AMCAT, we host 20 additional certifications that can help you quantify your skills and show your proficiency in a particular field. We have got English certification, Backend, Frontend and App Developers to name a few. You can use these additional certifications to make your candidature stronger when you apply for future opportunities.
You will be able to pick any of these 20 certifications worth Rs 500 for FREE.
Should we opt for AMCAT during these times?
Yes! In fact, now is the perfect opportunity for you to opt for the AMCAT exam and prepare for a future after this lockdown. Since you are at home, you can prepare for the exam in peace and get ready for the interviews too.
All the best!