Have you ever wondered – "What are your career goals", or "What do you want to become when you grow up to build a successful career?"
We are sure, you probably had a better idea of what to answer when you were a kid. You should have that same level of confidence while talking about your career goals with an interviewer.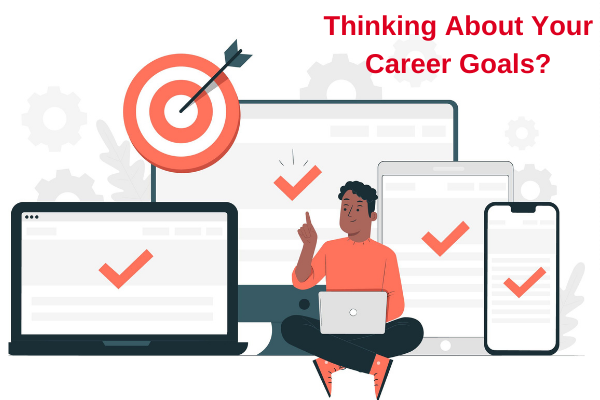 It is easier said than done, right? If you are unsure about your career goals or what they should look like in the first place.
We understand your struggle, hence have we have compiled this guide to help you figure out your career goals.
What is a Career Goal?
"Career Goal" is a self-explanatory statement that refers to the profession which individual plans to pursue throughout their career. These goals help you in getting closer and achieving your targets be it short-term, or long-term such as getting a promotion, or running your own business respectively. No matter what they sound like, they should be something of that sort that motivates you to get going in your career.
Why is it necessary to have a Career Goal and why do interviewers care for the answer?
Keeping aside the job interview, you should have a career goal because it's beneficial for you. It is not to impress the interviewer or anyone else, but to improve yourself.
It is necessary to have a career goal since the same keeps you focused and keeps you away from getting stuck on a cycle where every day looks the same, and you tend to forget what you are working for in the first place.
How to set your Career Goals?
We are sure, that you have tried to set at least one New Year's resolution at one point or another, in your life and if that didn't last for very long, then you can combat the odds and set your goals now.
By now, since you very well know what you want to do, how can you combat the odds, the next thing which you must be aware of is the thing that AMCAT is a bridge between your dream company and you.
AMCAT works in 4 easy steps, which includes – taking the Prep AMCAT anytime before the real test, appearing for AMCAT question paper and getting your detailed score within 2 hours, accessing your Prep AMCAT scores and preparing further accordingly, and giving the AMCAT exam and moving a step closer for your dream job.
All the above-mentioned steps are very important; therefore, AMCAT is highly recommended. If you're just beginning your career and moving a step forward towards your goal, you must take the AMCAT test, after the test you'll receive a feedback report that consists of one's employability scores, job fit in various roles, and tips to improve employability.