Finding a job during pandemic has been a hustle for almost every fresher. AMCAT exam is India's leading employability test, and hence it is an exceptional tool that helps not only in job search but also in examining one's competence for various professional opportunities.
Below is the conversation, that we had with one of our candidates, Viram Jain. He very well described how he made it to his dream job with the AMCAT assessment.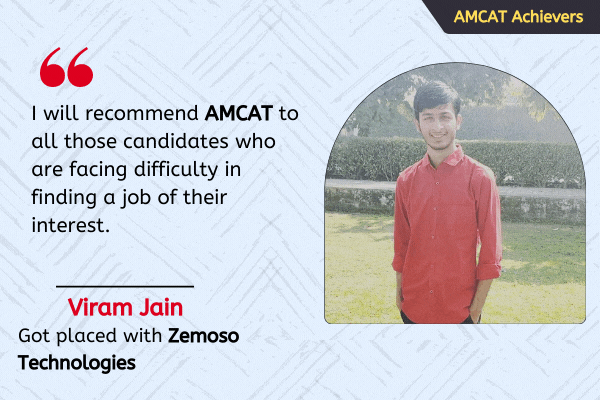 Why did you opt for AMCAT?
"Viram told us that he opted for AMCAT for better opportunities."
While looking for a job, did you face any difficulties? Please elaborate.
"Yes, initially while looking for a job I often faced an issue related to the skillsets which every company is looking for and how can I make my Resume capable for the company, AMCAT has amazing resume support which helped me in creating my resume as per company requirements, and my skill sets."
In the next segment, we shall see how Viram discovered his dream job through AMCAT. Scroll down to know more.
Tell us about the job you got through AMCAT and other offers and interview calls you received through it.
"I got placed at "Zemoso Technologies" – they offered me a great package, and it's all because of AMCAT, after giving AMCAT Exam I got various job offers from which I got the opportunity to select the best company and best role suitable for me."
How did the AMCAT feedback report help you assess your performance?
"AMCAT feedback report guided me on where I am lacking, and what demanding skill I should brush up to achieve my dream job, claimed Viram."
Would you recommend AMCAT to others?
"Yes, without any doubt I'll recommend AMCAT to others."
If yes, why?
"I will recommend AMCAT for those who are facing difficulty in achieving a job of their interest as per everyone's skill set, concluded Viram"
You might also like: "I Chose AMCAT Exam As It Exposed Me To Multiple Job Opportunities In One Go" – Ajeet Shakya
If you have any queries, feel free to get in touch with us.
Good luck for your future endeavours!