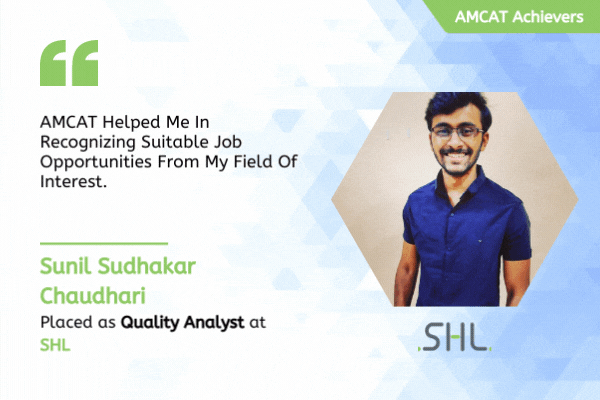 Finding a decent job for any fresher straight after graduation is the most difficult task. Hence Sunil, one of our candidates, tells us how the AMCAT exam made a difficult task simple for him and shared his experience with us. We have included the complete conversation with Sunil below, in which he told us about his entire journey, including the difficulties he experienced and the assistance he received from AMCAT along the way. Read on to find out more.
Why did you opt for AMCAT?
"I opted for AMCAT, to find an opportunity and to get a job interview."
While looking for a job, did you face any difficulties? Please explain.
"No, not at all. In fact, AMCAT offered a lot of job suggestions and help a lot in finding out the jobs which interest my fields, which successfully helped me to showcase my skills to the right company", claimed Sunil.
Tell us about the job you got through AMCAT, and other offers and interview calls you received through it?
"I received more than 13 job invites and applied for 4 of them out of which I was interviewed for a company. They further accessed my skills and on successfully clearing my interview I got the job confirmation call from SHL India Pvt. Ltd."
How did the AMCAT feedback report help you assess your performance?
Sunil told, "With the help of AMCAT feedback report I came to know what my strong points are, and which are the skills that I should be working upon to increase my chances to clear an interview."
Would you recommend AMCAT to others? If yes, why?
"Yes, I'll definitely recommend AMCAT to others on the basis of my experience.
The platform is great and has the below mentioned uses:
It gives us the AMCAT feedback report which is helpful.
It brings job opportunities for candidates.
Good AMCAT score helps in having an interview directly with the company", concluded Sunil.
If in case you have any queries, feel free to get in touch with us.
Our best wishes to him for his future endeavors.