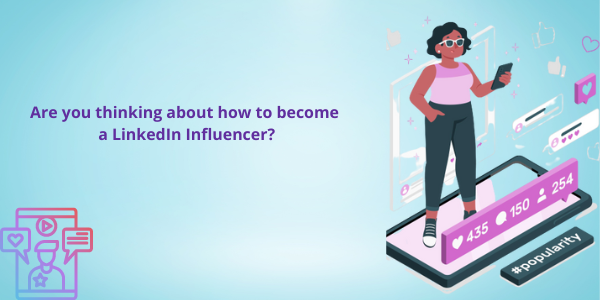 Social Media influencers have been on a rising scale for the past few years. Influencers share digital content in the form of videos, audio, or texts on social platforms to promote a brand or product. And influencers have a vast reach because huge number of people are using social media.
Influencer trend is not just limited to Facebook or Instagram anymore. LinkedIn is the newest addition to the list where professionals with a large number of followers are able to promote companies and their services. Almost every company, whether a public company or a start-up, has an account on LinkedIn these days which is used to highlight their activities, goals, and success. Apart from companies, educational institutions, government departments, and NGOs are equally active on LinkedIn.
What distinguishes LinkedIn from other platforms is that LinkedIn focuses on jobs, networking, companies, market employment trends, and current business trends. Users post about their experience of using a particular product or of their experience of working with a particular brand. Given the volume of active users, experiences shared by Influencers immediately creates a positive or negative image for the brand.
The surge in LinkedIn Influencer trend has made a way for new features on LinkedIn. One such feature is Creator Mode which is available to anyone who is wishing to create content on the platform. Once opted in, this mode will change how your profile and feed looks like by bringing more focus to the visitor on posts you have recently shared. Apart from creator mode, a feature video cover story allows you to make short catchy videos to connect with people.
However, becoming an Influencer on LinkedIn is not an easy job. Like any other platform, it takes a lot of time and consistent efforts to tap followers. To become an influencer on LinkedIn, content has to be genuine, meaningful, and helpful. Content should be able to guide a person to make the correct decision. Content created should add value and should not be posted just to get likes or comments. Apart from value creation, posts need to stand out from the crowd, which can be achieved by using pictures, videos, true stories, graphics, polls, or even hashtags. All this is achievable by remembering the purpose for which content is to be created and identifying the target audience. Content will get popularized only when it is created keeping audience needs in mind.
Register for AMCAT | India's Leading Fresher's Assessment And Job Site (myamcat.com)
Businesses should maximize the current opportunity of enlarging their brand image and reaching out to potential customers and employees with the help of LinkedIn. Every LinkedIn post shared by a company page reflects companies' values and beliefs. Businesses can also partner with Influencers to promote their products and make them reachable across the World.
Companies can also tap freelancers and talented potential employees by directly reaching out to them on LinkedIn. From educational background to professional experiences, all details can be made available on LinkedIn to see and act.
There is no stopping of LinkedIn. You can go on and on, to grow your connection and networks!