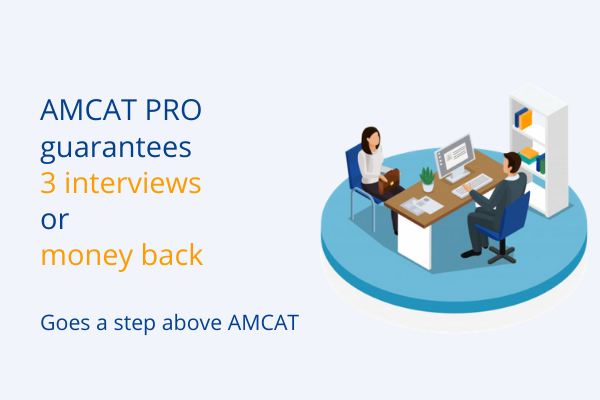 AMCAT or the Aspiring Minds Computer Adaptive Test has connected job seekers to recruiters. Through AMCAT, job seekers can let their skills set take the centre stage and excel irrespective of their college marks, college name or educational background.
AMCAT PRO carries all these qualities combined with an interview assurance. What is this interview assurance and how different is AMCAT PRO from the regular AMCAT; let's find out –
The interview assurance of AMCAT PRO
AMCAT PRO guarantees a minimum of three interviews within three months of giving the exam. These interviews will be basis your AMCAT PRO score. You can check the table below to understand how it works.
Also, if we (AMCAT) fail to deliver on the guarantee of minimum three interviews, then you will get your money back.

Note: If you score 500+ marks in all the modules, you will be eligible for the Gold membership. However, if you score less any of the modules, then that score will determine your membership.
For example; if you score 500+ in three out of four modules and 400 in one of the modules, then you will qualify for Bronze membership. Similarly, if you score less than 400 marks in any of the modules, then you will be considered ineligible for the interview assurance. 
Is AMCAT PRO different from the regular AMCAT?
Yes, AMCAT PRO is different from the regular AMCAT since it comes with a minimum three interviews assurance.
With AMCAT PRO our team of experts will search for the best opportunities for you from across the country and send them to you. Your stress of searching for jobs is shortened exponentially.  And, now all you need to do is focus on the upcoming job interviews and learn how to best tackle the interview questions coming your way.
Though both AMCAT and AMCAT PRO are different, their exam is the same. There is no difference between the syllabus, exam pattern, kind of questions being asked or marking of both the exams.
The preparation strategy that you employ for AMCAT will also work for AMCAT PRO. However, an important point to remember is that you need to score exceptionally and equally well in all the modules to make the most of this interview assurance.
So, put your AMCAT preparation cap on and start going through the syllabus to understand your strengths and weaknesses and practice your way to success.
Conclusion
AMCAT PRO, since it comes with a minimum three job interviews assurance is a smart choice for all 2019 candidates. It is a newer, assured version of the regular AMCAT.