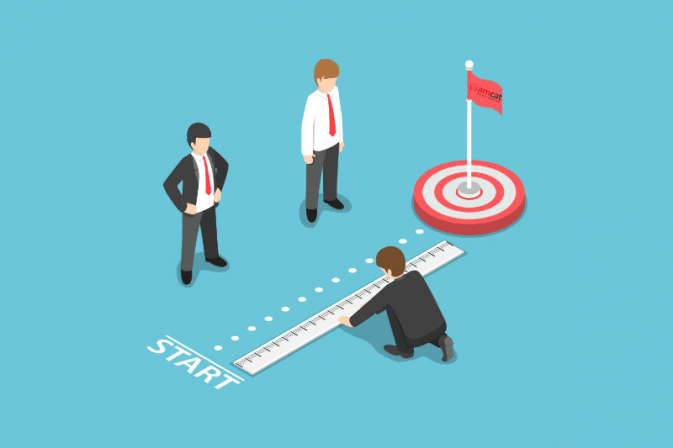 Your AMCAT Exam is scheduled, and you think you have been doing pretty well on your AMCAT preparation, but how do you know for sure?
Remember how you make sure of preparing well for the college exams? You discuss the important questions with your professors and classmates, study the chapters start to finish, and go through all the previous year's question papers!
That's how you know you have thoroughly prepared for the college exam.
The AMCAT preparation needs to be on the same lines, except it is a unique exam. And since it's an aptitude test you need to have everything prepared!
An easy way to keep a tab on your AMCAT preparation is to sign up for PrepAMCAT and follow this preparation regime to get a good score –
Take a mock AMCAT exam to evaluate where you stand – The best way to truly assess how well your AMCAT preparation is going is to take a mock exam. You can find mock exams in the PrepAMCAT tool, and when you take one, you will get an idea of how well your score was. If you score well, then great going. You can keep preparing as you have been doing. However, if you haven't scored well, then you can check which sections you scored less in and prepare accordingly. If you have scored less in math, then spend more time on it, and if it's engineering subjects then there is no doubt you need to prepare more!
Go through the sample papers – You can find a bunch of AMCAT sample papers on the AMCAT website. You can be assured that these are authentic sample papers and the same pattern as the ones that will be asked in the real AMCAT exam. Solving sample papers is the biggest advantage you will have when you are doing AMCAT preparation. The best way to take a sample paper is in the same conditions as a Mock Exam, and you can keep solving them in a limited time to assess how you are doing. These will give you more practice and help you tackle the mock and actual exams better.
Ensure the syllabus is covered – Of course there is no set syllabus with chapters for an AMCAT exam, especially for sections like the personality test. However, we have a broad list of subject and topics that are covered in the AMCAT exam. You can find the syllabus for each subject here. You can print out this list and strike out everything that you have covered for your AMCAT preparation. Also, highlight the important subjects where you need help so you will remember to cover them during revision especially in the last few days before the AMCAT exam.
Take the Mock AMCAT every two weeks to assess your improvement – The AMCAT preparation should intensify at least two months before the exam. It is an important exam and will help you get closer to your goal of landing a great first fresher job. You should solve at least two sample papers each week and give a mock AMCAT exam every two weeks to assess how your performance is! If you don't do this on a regular basis, you will start to lose track of how your preparation is going. You might feel confident, but maybe you will continue to make basic mistakes! It is also a good idea to do this to complete the AMCAT exam in time!
The best advice we can give you is not to schedule your AMCAT exam in a hurry. Give time for at least 2-3 months for AMCAT preparation so that you are confident and capable of giving it a good chance and getting a good score in the first attempt. Let us know in the comments if you have any queries about taking the AMCAT exam.