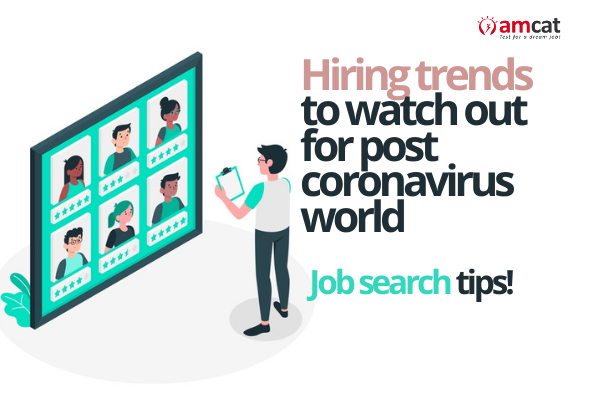 In order to have a successful job search, you need to stay on top of the current hiring trends to create or update your strategies. This is particularly important that keep-up with your surrounding at the moment.
The recruitment landscape is changing constantly, with that job roles, recruitment rounds and skills are also evolving. As a result, there is more pressure on you to be on top of your game when it comes to your dream job.
To get the best job opportunity, you need to have a better understanding of the key hiring trends that are shaping the job market. In this blog, we will take you through some of the important trends and how to maximise your efforts to achieve the best opportunity during the pandemic.
Change In Your Work Pattern
To stop the spread of novel coronavirus, employees are operating from the satey of their home. So, there is a high posibility that your interview process will be through video conferencing software.
To ace your recruitment process, you should know how to use these tools to conduct a seamless interview process from your end. This will help you strengthen your candidature and show the interviewer that you can efficiently work from home.
However, there might be a chance that you will have to work from office. If you are not comfortable commuting to your workspace during the outbreak, convey the same to recruiter and ask whether you can work remotely for the time being.
Emergence Of New Job Roles
The pandemic has significantly increased the demand of some of technical and non-technical job roles. And, to make the most out of these new opportunities, you need to thoroughly know the job maket and the skills required to target these roles.
In fact, sectors like IT, consumer goods, pharmasecticals, Healthcare and Supply-chain provider are recruiting additional workforce to keep up with the increased demand.
So, make sure you study the market closely before sending out job applications or selecting any particluar field of work. The best way to target these new work opportunities is by completing certification course in your free time. This will help you create a creaditable image in front of the recruiter and will make you stand out from the crowd.
Soft Skills At The ForeFront
To combact the problems in the current virtual workplace due to the COVID-19 pandemic, you need to have strong interpersonal skills. Your soft skills are going to help you communicate and collaborate with your colleagues while staying at home.
So, it won't be wrong to say that your uniquely human skills are going to help your grab the best job opportunities amid the pandemic. Use this time to work on your communication skills, technical skills and increase your emotional intelligence.
Make sure you highlight relevant and important soft skills in your job resume and in your answers to common interview questions. To successfully grab opportunities you need to put your soft skills at the limelight and show the interviewer that you can achieve goals without stepping out.
Conclusion
To make your dream job your first job, you need to keep up with the hiring trends and incorpoate the changes in your job search strategies quickely. You should also take the help of AI-powered recruitement tool to get exclusive and tailormade job opportunities.
Moreover, you need to constantly work on your skillset to bag job opportunities amid the coronavirus pandemic. So, keep your learning and developemnt going.