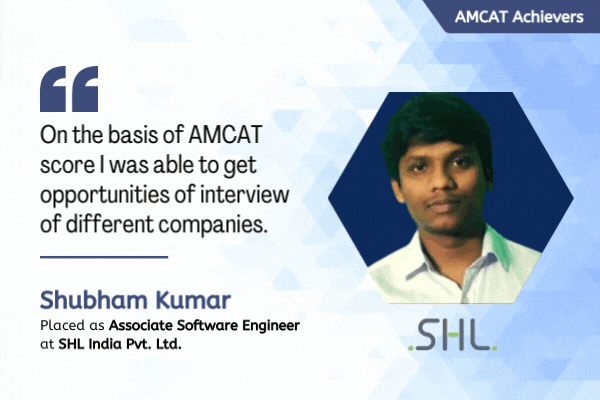 Taking the AMCAT was one of the best decisions I've ever made in my life, particularly in terms of my professional career. The entire procedure was extremely simple and successful, and it enabled me to land a fantastic job as a new graduate.
Shubham was enthusiastic about his career choices and had full confidence in AMCAT. Would you like to learn more about his journey? Then keep reading to learn more about it.
What made you choose AMCAT?
Shubham said, he chose AMCAT because of the bigger companies, higher salaries, suitable job profiles, and convenient job locations.
Tell us about the job you got through AMCAT?
"I got a position of Associate Quality Assurance Engineer at SHL India Pvt. Ltd., told Shubham."
How did AMCAT help you in getting a job?
"On the basis of my AMCAT score, I was able to get opportunities to give interviews for different companies. Due to this, I got selected in SHL."
Did you have any issues in your job search? Please provide more details.
"Yes, it was very difficult to get shortlisted in the companies on different portals because they do not have a clear road map for their hiring and assessments. Claimed Shubham"
What role did the AMCAT feedback report play in the process?
"AMCAT feedback report helped in identifying my strong and weak points with the help of which I was able to make the required changes and enhance the required skills for better placement."
Register for AMCAT | India's Leading Fresher's Assessment And Job Site (myamcat.com)
Would you recommend AMCAT to others?
"Yes, Yes, I'll definitely recommend AMCAT to others."
Why do you think AMCAT is a good pick?
"AMCAT provides 1-year validity of AMCAT scores and certificates.
Gives feedback reports
After giving AMCAT you are eligible to apply for unlimited jobs on myamcat.com, concluded Shubham."
If you have any queries, feel free to get in touch with us.
We Wish You All The Best!