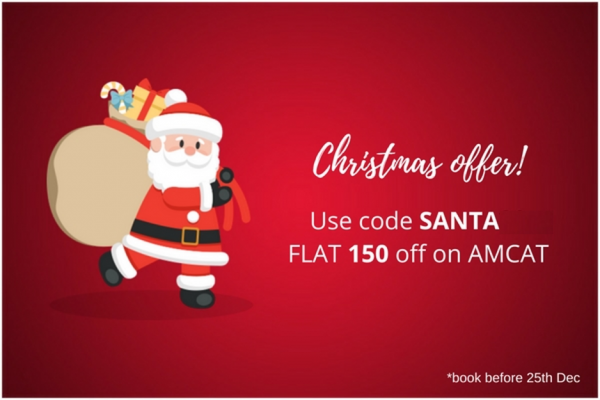 Are you packing your bag to go on an extensive and exhaustive job search journey? Or are you a recent graduate who is looking a little forlorn after spending months trying to find the perfect job? Whoever you are and wherever you stand in your life and career, if you want a job, we have got it for you. And to prove how much we do mean what we just said, we are here to brighten up your holidays with this exclusive AMCAT Christmas offer.
So, as the long weekend approaches, one on the back of another, we give you a chance to do something sweeter than hogging on the delicious food and schedule the AMCAT test. And don't worry, we won't drag you away from the party and ask you to give the test now and here. You can schedule the test, enjoy the AMCAT Christmas offer and book the slot according to your convenience.
WIN, WIN!
The AMCAT Christmas offer:
With the AMCAT, students get to move up and beyond their marks and discover their own merit. With this skill assessment test, students get to understand their strengths and weaknesses and find relevant job opportunities through it. By giving the AMCAT, students open the door to new and fresher job opportunities to choose from everyday and use their AMCAT scores to successfully apply for these jobs.
And you too can apply for all these fresher jobs and IT jobs by giving the AMCAT and enjoying the special AMCAT discount with AMCAT Christmas offer. All you have to do is to sign in to the AMCAT portal and use the discount coupon SANTA.
Purchasing the AMCAT over this cheerful festival weekend can bring you closer to these benefits:
Flat Rs 150 off on booking the AMCAT Test (valid till 25th of December)
Uninterrupted access to all premium jobs for one year
And if that does not convince you then here is something which might – a tentative list of companies hiring through the AMCAT in January. And the list includes names like:
Hewlett Packard
NetConnect Global
Skytel Outsoucring
Mazenet Solutions
Tanisha Systems
Mind Tree
Currently running names:
BYJUs
PNB Housing
Advantage Club
Aspiring Minds
Reliance Jio
Still waiting for something? Schedule your AMCAT test, now and enjoy this golden, discounted offer to a host of great job opportunities.