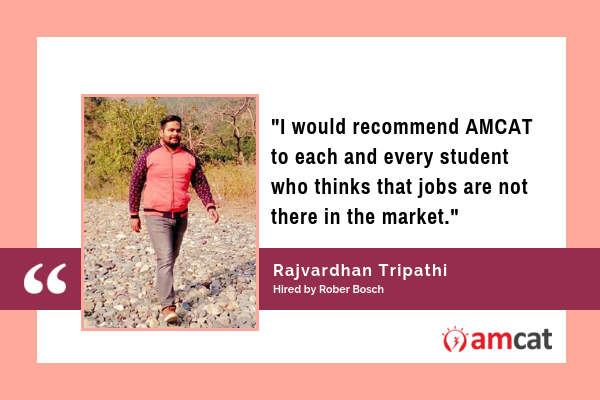 Imagine a scenario where a truckload of job opportunities open up for you every day. You get your dream job and are spoiled for options. Won't that be something perfect? Well, with the AMCAT exam, you can make that perfect come true.
Don't believe us? Read the success story of Rajvardhan Tripathi.
Why did you opt for the AMCAT exam?
Rajvardhan got a job in two companies through the campus placements. However, the package he was being offered was 3.3 to 3.5 LPA. This was not acceptable to Rajvardhan who wanted a job that paid more.
"I wanted to grab my dream job which must have a decent package. So, my college helped me take the AMCAT exam and I embraced the opportunity given to me by it."
Tell us about the job you got through the AMCAT exam
Rajvardhan, who faced a lot of difficulties in the initial phase of his job search shared that "I got placed in Robert Bosch through the AMCAT exam at a package of more than 5 LPA."
"I also received numerous interview calls for interviews from reputed companies like Tech Mahindra, CGI, NTT Data, Virtusa Polaris, Thiknsys and more on a daily basis."
How did the AMCAT feedback report help you? 
"The AMCAT feedback report helped me a lot in improving my programming basics in C & JSE/J2SE. It also helped me with my core subject as I had achieved decent scores in Aptitude, Reasoning and English but lack in ECE and Programming."
Making the most of the feedback report, Rajvardhan "started making programs on different online platforms and the results are transparent."
Would you recommend AMCAT to others? Why?
"I have recommended AMCAT to many of my juniors and friends and would keep recommending it to each and every student who thinks that jobs are not there in the market and I can't get an opportunity to show my talent."
"To these candidates, I will show my profile as I am getting interview calls from at least 5 companies every day."
Rajvardhan really proved himself and got a great job through the AMCAT exam. He made full use of the AMCAT feedback report and left no stone unturned to prove himself.
And, much like Rajvardhan, you too can tell the world that you are job ready and get a lot of opportunities to prove yourself. For that, all you need to do is
schedule the AMCAT exam
and say hello to exciting career prospects ahead.