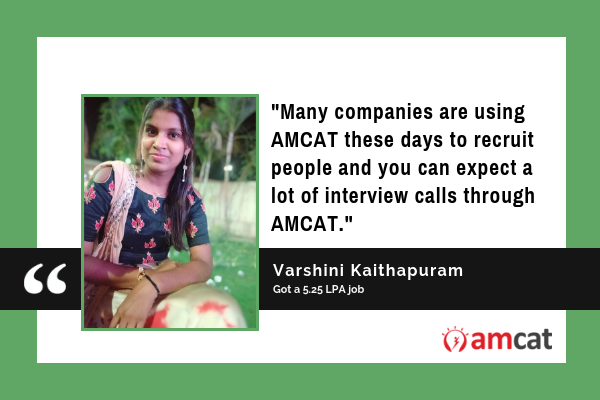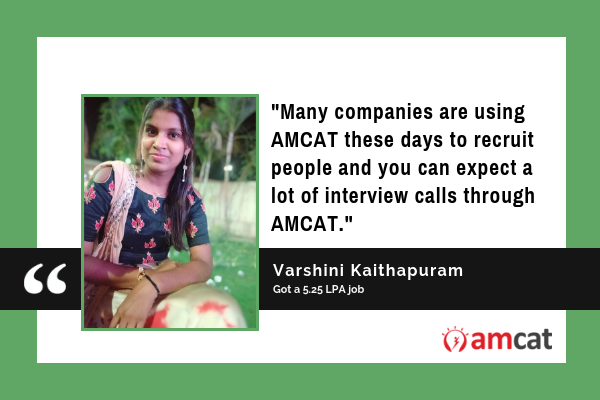 Getting a good job is no easy piece of cake. You need to come across as all confident and savvy and make a great impression on the recruiters from the word go. And, Varshini realised the same as she opted for the AMCAT exam to get the job she always craved.
Let's see what she has got to say about the AMCAT exam and the whole hiring process.
Why did you opt for the AMCAT exam?
Varshini opted for the AMCAT exam because "it was suggested by my college placement officer."
Varshini also talks about how during her initial job search she faced a lot of difficulties. "During the campus placements in my college, I faced problem in clearing the first round, which was the aptitude round, most of the times."
This prompted Varshini to actively opt for the AMCAT exam and she got a good result in the same. "According to the result I got, I got many job offers and got called directly for job interviews."
Tell us about the job you got through the AMCAT exam
"I got a job at Verizon Data Services at a package of 5.25 LPA."
"I also got various job offers and interview calls. I have attended a few of them. AMCAT includes a lot of very good companies like Cognizant, MindTree, Verizon, Rupeek Fintech and many more."
Varshini also talks about how the AMCAT feedback report actually helped her get where she is today.
"I had a chance to attempt AMCAT twice. So, the result from the first test and the feedback report helped me analyse where I stood in various fields."
"It also analyzes my personality and communication skills and helped improve them by suggesting new ideas and ways."
Would you recommend AMCAT to others? Why?
"AMCAT provides you with an easy way to crack the job interviews. It acts as a bridge between job seekers and corporate industries."
"Many companies are using AMCAT these days to recruit people and you can expect a lot of interview calls through AMCAT."
Varshini, despite facing numerous failures, realised what she needed to do in order to succeed – opt for the AMCAT exam. And, she didn't just opt for it, she learnt from her mistakes and made the best of the opportunities that came her way.
And much like Varshini, you too can land the job you have always wanted. But first, schedule your AMCAT!