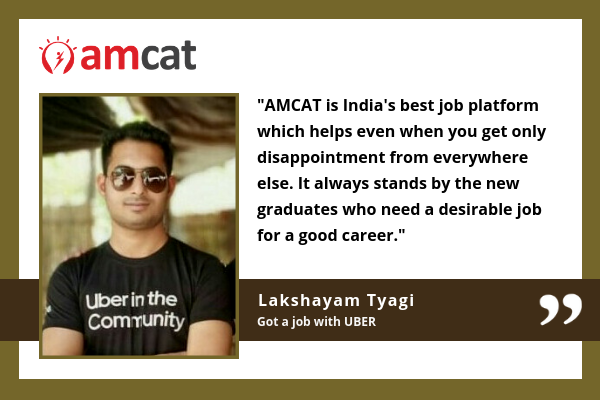 AMCAT is a computer adaptive test. That means, the level of the questions will depend on how you answer the previous ones. However, what makes the AMCAT exam so effective? And, is it really that good?
Let's find out the answer to these questions through the success story of Lakshayam Tyagi.
Why did you opt for the AMCAT exam?
"AMCAT is India's best job platform which helps even when you get only disappointment from everywhere else. It always stands by the new graduates who need a desirable job for a good career."
While looking for a job, did you face any difficulties?
Lakshayam says that he faced a lot of issues when looking for his first job.
"I was running from pillar to post to get a good job after my graduation. But AMCAT always stood by me and helped me a lot in landing a good job."
"There is already an environment of unemployment in the country and here is AMCAT, doing a fabulous job of helping the youth."
Tell us about the job you got through the AMCAT exam
"I got a very nice job with UBER through AMCAT. It pays well and there are many other facilities available as well. It is a good and healthy environment to work in."
Lakshayam also talks about the other "attractive job offers" that he received even after he got a job in UBER.
What about the AMCAT feedback report? Did it help?
Talking about the feedback report, Lakshayam says, "It made me think once again about my preparations and overall personality. It showed me the right path when I was feeling depressed and demotivated. It helped me find success."
Would you recommend AMCAT to others?
"Yes", says Lakshayam. He further adds that "AMCAT is not only India's best job provider but also a guide. It helps us understand our strengths and weaknesses and motivates us to achieve more."
Thank you, Lakshayam for all your kind words! 
The AMCAT exam can be a real boon for freshers as Lakshayam stated and as many people before him have agreed to. And, if you have a good AMCAT score, then you too can get a horde of good job offers to choose from and embark on a successful career journey.