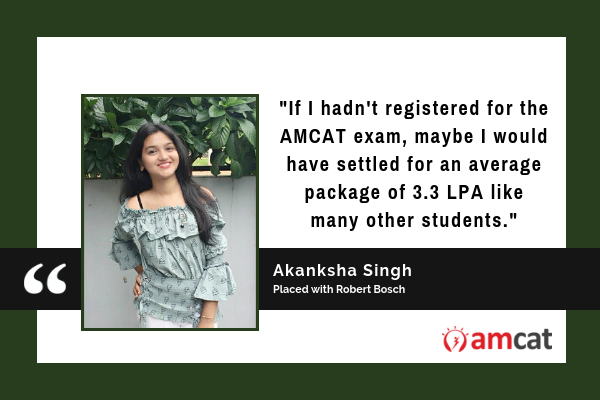 There is nothing like a good success story to warm our heart and remind us how we are paving way for people to get closer to their dream job. And, today, we have an inspiring and heartwarming tale of Akanksha Singh who opted for the AMCAT exam and got placed with Robert Bosch.
Akanksha didn't really know a lot about the AMCAT exam until her college made her aware of it. She realised that it was a great platform to find better opportunities and decided to go for it.
Let's see what she has to say about the whole process –
How was your job search process? Did you face any difficulties?
"Difficulty? No, not at all", says Akanksha who was bowled over by the support AMCAT provided her in every possible way.
"From playing a mediator between me and different companies, continuously reminding me of the last dates, rescheduling my exam dates to even giving the route of the interview location on Google maps, AMCAT acted as my support system through it all."
Tell us about the job you got through the AMCAT exam
"I am currently placed at ROBERT BOSCH at 5 LPA through AMCAT."
"I was shortlisted and applied for it out of peer pressure. I had never thought I would get placed through AMCAT as I never believed in such platforms."
Akanksha was of the opinion that such online platforms were not really helpful. In fact, this belief was so prevalent among her friends that they didn't even go for the interviews when they were shortlisted. And, in the words of Akanksha, "it was their loss."
Akanksha still remembers the days when she finally got placed in Robert Bosch. She says, "I was just on the top of the world. The package, location, everything was respecting my potential and hardwork. I finally stood a chance to prove myself."
"I really appreciate every effort of the AMCAT team. If I hadn't registered for the AMCAT exam, maybe I would have settled for an average package of 3.3 LPA like many other students."
Thank you, Akanksha! That was most kind!
Would you recommend AMCAT to others? Why?
"I would definitely recommend the AMCAT exam to all the freshers as it is a very good platform to get a job that matches your profile, potential and package expectation."
Akanksha also recalls how the AMCAT feedback report helped her up her performance and work on her weaknesses.
"Since AMCAT is always there to support you, it becomes even more easy to deal with everything. So, yes, one must go for AMCAT."
Akanksha showed her faith in the AMCAT exam and it paid off manifolds. She got her dream job at a dream package and a fistful of happy AMCAT memories.
And, you too can pocket your dream job and pull off an Akanksha together with the AMCAT exam. So, schedule your AMCAT right away to enjoy some dreamy success.