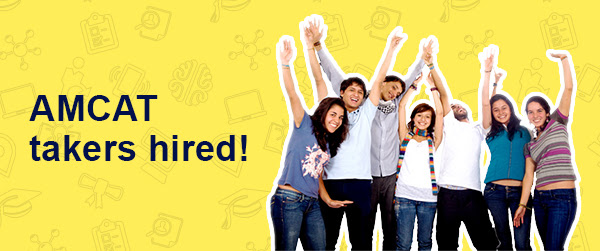 The AMCAT exam can be a perfect platform for those seeking jobs that would challenge them and help them expand their knowledge base. With the AMCAT Exam, recruiters and job seekers get to know each other better and connect. And, something very similar happened in a recently conducted AMCAT hiring drive.
Conducted by the prestigious Optimus Information Inc., on 6th of October 2018, the objective of the placement drive was to hire the 2019 batch B.Tech and B.E students for a Software role.
The hiring drive was super-successful and reminded us yet again how the AMCAT exam is making a great difference.
To understand what went behind the hiring process better and to guide the other students looking to pull off a similar stunt, we got in touch with two successful candidates. And, here is there take on things –
AMCAT provides good opportunities
Somnath Verma, a Computer Science Engineering student from Ajay Kumar Garg Engineering College, shared with us how the AMCAT exam helped him bag his dream job.
"My experience with AMCAT was good and I was assessed on aptitude as well as on technical knowledge. AMCAT provides good opportunities with many companies and candidates can apply directly on AMCAT's website without any hassle."
Somnath further added that
"I recommend others to take AMCAT as it is a good platform for freshers."
Opted for AMCAT because I needed a good job
Apart from Somnath, we also got in touch with Rashi Rustagi who realized the importance of the AMCAT exam early on. A Computer Science student from NorthCap University, she saw the job opportunities AMCAT provided and took the required leap to land a good job.
"I opted for AMCAT because I needed a good job and taking AMCAT was a nice experience. I got a decent job through AMCAT and definitely recommend other job seekers to take AMCAT."
Companies hiring through AMCAT
Both Rashi and Somnath were hired by Optimus Information Inc. However, it is not the only company looking for freshers at the moment.
There are many more companies such as Codefront Technologies, Infiniti Software, and Aviconn Solutions, looking to hire the best of candidates from the 2019 batch.
Also, there are numerous names like Cognizant, Mphasis, MindTree, Reliance Jio, etc, which have been regular names at the AMCAT jobs portal.
From big to medium-sized enterprises to small companies; all have been the part of the AMCAT family.
So, don't wait anymore. If you have not given the AMCAT exam yet, then register now. And, if you already have a valid score, then start applying, today!
The AMCAT exam can open up numerous job opportunities for you and get you closer to your dream job. And, the same has been proven time and again by our numerous successful candidates.
To read more such AMCAT success stories and to keep getting inspired, check out the AMCAT blogs. If you have any doubts or queries, then you can drop your thoughts in the comments section below.
Till then, best of luck, and keep succeeding!