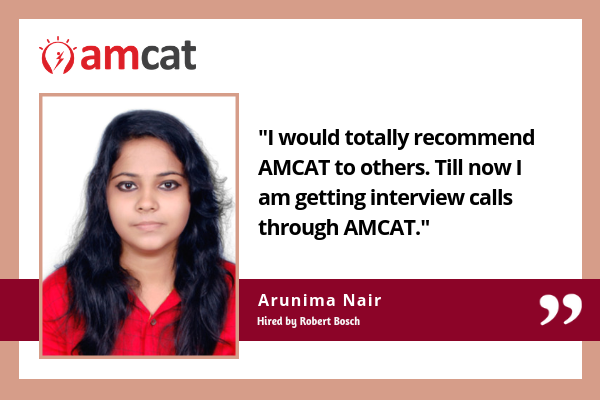 Getting your dream job can just stay that, a dream, for many. However, Arunima didn't let anything deter her in her pursuit of a fulfilling career. And, while she worked hard to get the job she always wanted, she decided to go for the AMCAT exam.
While looking for a job, did you face any difficulties? 
Arunima was unable to sit for a lot of interviews. However, "through AMCAT I got a chance to attend the interviews of my dream companies."
Tell us about the job you got through AMCAT
"I got placed in Robert Bosch through the AMCAT exam. Apart from Robert Bosch, I got offers from mass recruiters like CGI, Cognizant, MindTree and three more similar companies."
"When I went through the AMCAT website, there were many negative comments there. However, I honestly want to say that everything depends on your AMCAT score."
"AMCAT has many companies providing good job profile with a good salary package. But the kind of job you get totally depends on your score."
Would you recommend AMCAT to others? Why?
"I would totally recommend AMCAT to others. Everything after the AMCAT exam depends on your score. The minimum score in Quants is > 550, Logical Reasoning >500 and English >550. Based on your scores, the companies will call you."
"Till now I am getting interview calls through AMCAT."
"So, if you are wondering whether you should take the AMCAT test, believe me, take it and seriously prepare for it."
Arunima also adds how the AMCAT feedback report "contains all the details and it really helped me access my performance. And the portal will also help you build your CV perfectly."
As Arunima pointed out, you need to score really well in the AMCAT exam to reap in its full benefits. However, once you have crossed that bridge, there can be no stopping you and you can easily bag the job you always wanted.
So, stop waiting and schedule your AMCAT without any further delay and say hello to an exciting career ahead.