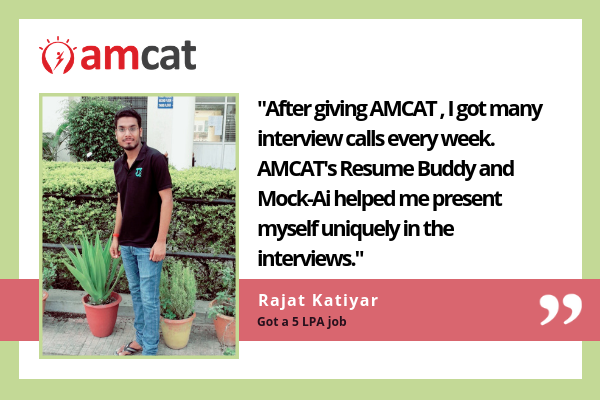 Getting a job is no piece of cake. You need to sit through the whole interview process and appear all prim and confident. And, if by any chance you fail to do so or miss a step, then you would have to start all over again. However, you don't have to worry about these things anymore, not with AMCAT on the watch.
And, today, we are going to talk about such similar missteps and the AMCAT support through the success story of Rajat Katiyar.
Why did you opt for the AMCAT exam?
"I wanted a job before college ended. However, good companies rarely visit our campus and so I decided to appear for the AMCAT exam."
During the initial phase of his job search, Rajat lost the few interview offers he got because he was not confident enough. "I did not get many interview calls and even the ones I got, I couldn't present myself confidently in them. However, this was before appearing for the AMCAT exam."
"After giving the AMCAT exam, I got many good interview calls every week. AMCAT's Resume Buddy and Mock-Ai really helped me present myself positively and uniquely in the interviews."
Riding high on confidence with all the practice, guidance and help he got through AMCAT, Rajat knew that success wasn't that far. And, his faith paid off in a spectacular fashion.
Tell us about the job you got through AMCAT
"I appeared for the Robert Bosch drive held in Lucknow and facilitated by AMCAT and got a job in it."
"Prior to that, I was doing an internship in a startup and even they wanted to know my AMCAT score in order to provide me with a full-time job offer."
Rajat also throws some light on the AMCAT feedback report and how it helped him prepare better for the upcoming job opportunities.
"The AMCAT feedback report provides a 360-degree view analysis and highlights our sections. Not only that, but it also recommends and guides us on how to improve on it."
"My English section was very weak and with the AMCAT report and feedback, I have really improved it."
Ending the success story on a positive note, Rajat adds how "AMCAT will help you get good interview calls every week. Its Resume Buddy and Mock-Ai will also help you present yourself a lot more confidently during the interviews."
We are truly inspired and humbled by Rajat's response and can't wait to see others writing similar success stories. So, if you are looking for your golden opportunity, now is the time! Schedule your AMCAT right away and embark on a success journey like no other.