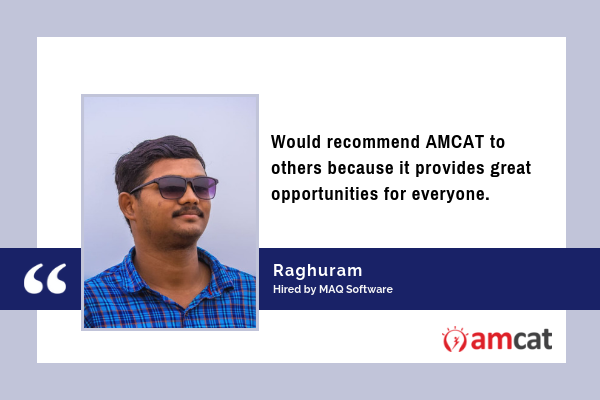 There are so many people out there who opt for the AMCAT exam because someone advised them to. Or because their college thought it might help the students with their placements. Raghuram too opted for the AMCAT exam because in his words "college ne mandate kiya tha."
However, what started as a mandate by the college, soon turned out to be a super successful journey.
Did you face any difficulties while looking for a job?
"Well, I got a couple of opportunities during campus placements. However, I was not satisfied with them and was looking for something better."
Around this time, Raghuram started talking to people about what better opportunities he could get and how. That is when he got an email from AMCAT saying that he was shortlisted for an opportunity.
This opportunity turned out to be with a better company and Raghuram grabbed it with both hands.
What about the AMCAT feedback report? Did it help?
Raghuram, who is all praises about the AMCAT feedback report talks about the detailed analysis done by it and it helped him sort out the topics in which he was lagging.
Once he knew what his shortcomings were, Raghuram "made sure that I was better at the topics which I was not particularly strong in earlier."
Would you recommend the AMCAT exam to others? Why?
"Yes", says Raghuram. His reason being that the exam "provides opportunities to everyone".
The fact that AMCAT hosted 1650+ off-campus and on-campus drives in the last year alone and created over 5 lac opportunities really gives weight to what Raghuram has said.
Raghuram got extremely lucky that his college realised the importance of the AMCAT exam even when he didn't and guided him towards it. Today, Raghuram has a job that is better than any other job offer he has received so far, all thanks to AMCAT.
So, if your college is not taking a leaf out of Raghuram's book yet, then ask them to or schedule your AMCAT individually, to enjoy the numerous job opportunities and quick success gateway that it offers.