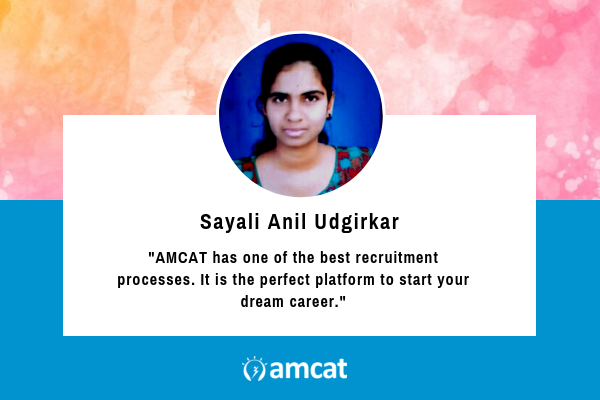 You might have heard a lot about the AMCAT exam – there are some good reviews and a few bad ones. However, if you are unsure about whether you can trust AMCAT or not, whether it will help you bag your dream job or not, then read this success story of Sayali Anil Udgirkar.
Sayali, who got a job in ITC Infotech through the AMCAT exam talks about her AMCAT journey and how it helped her.
Why did you opt for the AMCAT exam?
Sayali says that she opted for the AMCAT exam because "it is one of the best and most trustworthy platforms for recruitment."
"Many people have a great experience with AMCAT. It has helped a lot of us live our dreams. In fact, it the best platform to fulfil your dreams and to work for MNCs."
Sayali saw the value of the AMCAT exam and gave it her best shot to get the kind of job she always wanted. 
During your job search, did you face any difficulties? 
"Yes! We don't have campus recruitment in our college. Thanks to AMCAT, I got an opportunity to start my career with a well known MNC."
"I got placed in ITC Infotech, which is one of the leading companies in the IT industry." 
"I also got many interview calls through the AMCAT exam, and that too from good companies from all over the world."
Would you recommend the AMCAT exam to others? 
Sayali says that yes, she will recommend AMCAT to others. When asked why, she replied that it is "AMCAT has one of the best recruitment processes. It is the perfect platform to start your dream career."
She also adds how "through the AMCAT feedback report I got to know my strength and weaknesses. That helped me improve my weak areas and use my strengths more effectively. It also showed me the correct path to follow."
While Sayali is all praises for the AMCAT exam, we are only glad that we could help her on her journey. And, much like Sayali has proven herself and taken home the 'dream job' trophy, so can you. Just schedule your AMCAT test right away, score well and get ready for numerous opportunities coming your way.