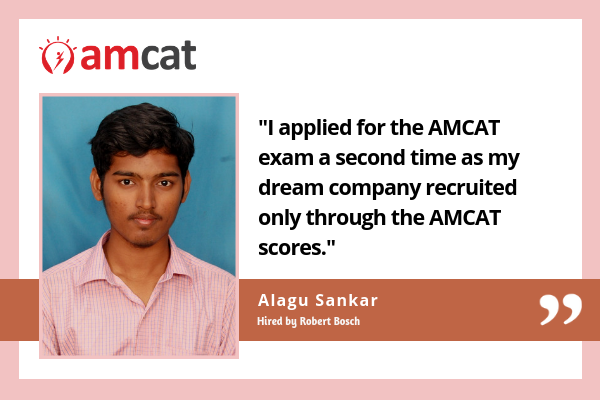 The AMCAT exam has proven itself time and again. This smart adaptive test which gives you questions on the basis of how you answer the previous ones, is highly recognized by the top industry leaders. However, not everyone recognizes the many benefits of AMCAT the first time around and neither did Alagu.
Let's hear how he came the AMCAT way and what is his take on the whole process –
Why did you opt for the AMCAT exam?
"I opted for the AMCAT exam twice. The first time, I applied through my college as it was mandatory. However, I didn't realize its worth until a year later."
"AMCAT makes job searching and landing a job offer relatively easier and assures confidence in a transparent process."
"I applied for the AMCAT exam a second time as my dream company recruited only through the AMCAT scores."
While looking for a job, did you face any difficulties? 
"Before AMCAT I didn't know where I was heading with my career. I was not sure where to apply for jobs and even if I did apply, how to know whether it is a spam or not."
"I almost gave money to a fraud recruiting agency in the hope to land a job. But with AMCAT we can be assured that the companies are good and legit."
Can you tell us about the job you got through AMCAT?
"I got a job offer from Robert Bosch as Associate Software Engineer through a drive conducted by AMCAT."
"I often (at least thrice a week) received calls from companies that I was shortlisted for relevant profiles of my interest. And, more often than not, I received subsequent interview calls."
Would you recommend AMCAT to others? Why?
"The AMCAT exam opens up a new horizon of opportunities that students didn't know were open before. It certainly widens the viewpoint of students regarding jobs before and after AMCAT."
Alagu also adds that the AMCAT feedback report, "felt more like a personalized report rather than a stereotypical report card with only marks you. It gave me a new in-depth analysis of myself."
Alagu's journey with AMCAT was a win and so can be yours. Just take to schedule your AMCAT, score well in all the modules and embrace the opportunities that come your way.