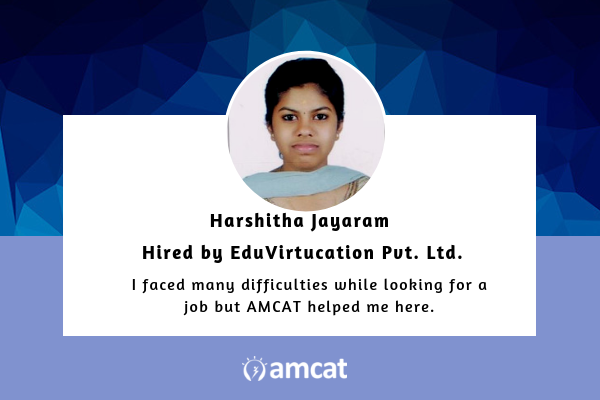 Getting a job and a good job at that can be quite a task, especially if you don't know how to begin your job search journey. However, with the AMCAT exam, that journey is made infinite times easier. And telling one such incredible story of success is our AMCAT achiever of the week, Harshitha Jayaram.
Selected in EduVirtucation Pvt. Ltd. let's see what Harshitha has to say about the AMCAT exam…
Why did you opt for the AMCAT exam?
"I faced many difficulties while looking for a job. I got a lot of good feedback from my seniors regarding the AMCAT test and decided to opt for it."
For those of you who don't know, AMCAT is a skill assessment test that bridges the gap between employers and job seekers. Based on a candidate's AMCAT scores, it connects them to the recruiters and gives them the opportunity to apply for jobs available on the AMCAT jobs portal.
And, not just the AMCAT jobs' portal, one can also use their AMCAT score as proof of their skills and use it to do better in off-campus placements or campus placements.
How did you prepare for the job interview?
Harshitha took the smart way while preparing for the job interview and used her knowledge from the AMCAT preparation to do well in it. Furthermore, she adds that the,
"Interview process was very easy and there was no confusion or anything as such."
An important tip to remember when preparing for job interviews is to watch not just what you say and what your body language portrays. You should appear poised, collected, calm and confident through your interaction to make a good and lasting impression on the recruiter/s.
Would you recommend the AMCAT exam to others?
"Yes, for sure!"
"I will recommend all others and my juniors to opt for AMCAT since it is a very good platform to look for jobs."
Thank you, Harshitha! That was most kind!
The AMCAT exam has so far proven itself to be the ideal option for those seeking good jobs and for wedging those out who find themselves in a tight spot during the job search.
Harshitha is not the only one who has relied on the AMCAT exam and has reaped in great results. You can read more AMCAT reviews and success stories in our testimonials' section. And if you are eager to write a similar story of success, then schedule the AMCAT exam, NOW!