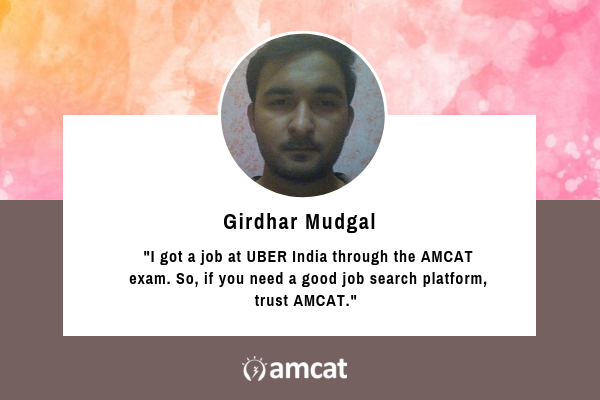 The AMCAT exam makes getting a job seem easy. With its adaptive test formula, AMCAT is relied upon by numerous companies, big and small alike. However, what makes the AMCAT exam so successful and does it really provide good jobs? Let's figure the answer to these questions through the success story of Girdhar Mudgal.
Why did you opt for the AMCAT exam?
Girdhar wanted a job in a good company. However, there were not many options available and his sources were falling short. So, he knew that "the platform which could help me through it was AMCAT."
While looking for a job, did you face any difficulties? 
"Yes, I did face a lot of issues. Such as, the companies I got selected in were offering really low wages. Something that is not even enough for survival."
"Many companies were hiring candidates from different streams for a job profile which had no requirement of them. Due to which, I had to drop a job mid-interview."
Tell us about the job you got through AMCAT
"I got a job at UBER India through the AMCAT exam. The work environment and the facilities being provided here are quite promising and that has kept me attached to the profile."
How did the AMCAT feedback report help you?
Girdhar shared that the AMCAT feedback report "helped me understand the profile and job requirements of different companies. It also helped me understand my level of performance and knowledge I am at."
Would you recommend the AMCAT exam to others?
"Yes", says Girdhar as he tells us the reason behind his decision. "All the other platform out there are fake or just charging stupid money for money."
He further adds that "if they are freely available then the job is not challenging enough and in accordance to my profile. So, if you need a good job search platform, trust AMCAT."
Girdhar's success is only a reminder that success is never too far away if you are truly committed to it. And, much like Girdhar has made his mark, you can do the same by just scheduling the AMCAT exam right away and enjoy the opportunities it brings in its folds.