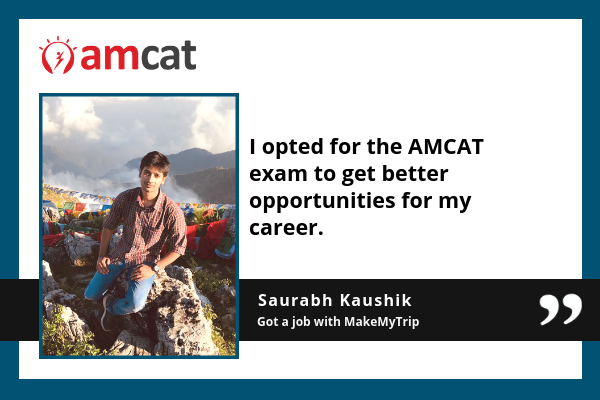 What does the AMCAT exam mean to you? Bigger opportunities than ever? High-paying jobs? Or jobs with big brand names that will forever look beautiful and glowy on your resume?
Saurabh Kaushik got all that as he opted for the AMCAT exam and lept ahead in his career. Let's find out what he has to say about the AMCAT exam and his success journey with it –
Why did you opt for the AMCAT exam? 
Saurabh says that he opted for the AMCAT exam "to get better opportunities for my career."
He also talks about the hardships people face when searching for a good job, especially if you are a fresher or have little experience.
"If you have less experience then you get very few calls from the companies."
Most companies believe that the people just passing out from the colleges are not employment ready. As in, they have the education but not the right kind of education that will help them fit in a job environment. As such, they look for experienced candidates, especially when higher packages and bigger brand names are involved. And, that is exactly the thing that AMCAT targets as it brings a candidate's skills to the fore, telling the recruiters that they are job ready.
Tell us about the job you got through AMCAT
"I received an offer from MakeMyTrip through AMCAT."
When asked if he would also recommend the AMCAT exam to others, given his terrific experience with it, Saurabh says, "yes". He adds that AMCAT "helps a lot in getting interview calls from different companies and it is especially helpful if you are a fresher."
The AMCAT exam hosts a lot of opportunities for those who are eager to prove themselves and have their eyes set on the kind of opportunities they want. And, much like Saurabh, you too can bag your dream job, in a good company, at an enviable package; all you need to do is
schedule the AMCAT exam.