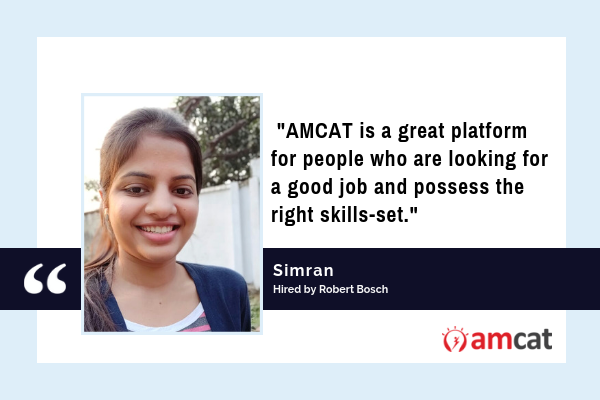 Can the AMCAT exam help you get a good job? Should you even opt for AMCAT? Can AMCAT make your job search journey easier?
We are often asked such questions as candidates turn to the AMCAT exam in hope. And, to answer these questions, we will take the help of Simran and her success journey.
Why did you opt for the AMCAT exam?
Simran says that she opted for the AMCAT exam "to get placed in a reputed firm or organisation."
She recalls that how opting for the AMCAT exam made things easier for her and helped her land a good job.
"I gave the AMCAT exam and soon after received interview calls from a good number of organizations. It made the whole job search process easier for me as I got placed with a good company like Robert Bosch."
Tell us something about the job you got through AMCAT
"AMCAT is a great platform for people having the right skills-set. I got placed in an MNC, Robert Bosch through the AMCAT exam. And I know it will be the best start for me as a fresher."
Did the AMCAT feedback report help you?
"The AMCAT feedback report gave me a detailed description of my strengths and weaknesses. It also told me about the job profiles which would best suit me based on my knowledge."
Would you recommend the AMCAT exam to others? Why?
Simran says that yes, she will recommend AMCAT to others. She further adds that "it is a great platform for people who are looking for a good job and possess the right skills-set."
Simran's analysis is very true and to the mark. AMCAT has a knack for helping candidates find the best job basis their capabilities.
If you too want to succeed in your job search and take home your dream job, then you opt for the AMCAT test right away and step into a world of opportunities.