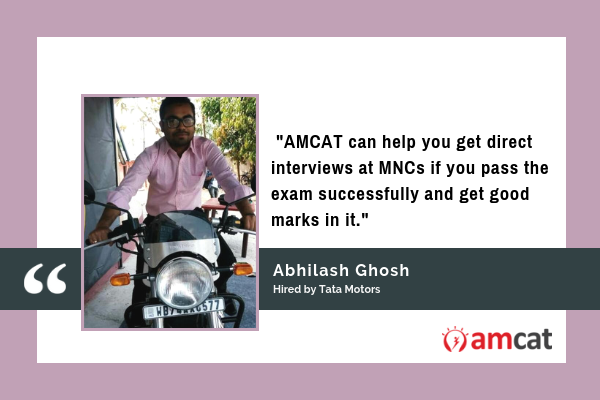 The AMCAT exam is a computer adaptive test. That means, it adapts itself according to how you answer, thus paving the way for a better overall skills analysis. This in turns gives the recruiters the confidence to rely on the AMCAT exam to seek out their ideal candidate. And this confidence did wonders for Abhilash too has he found his dream job through AMCAT.
Let's see what he has to say about the whole process –
Did you face any difficulties while looking for a job?
"Yes, in a way of speaking."
"Actually, it was my dream to work for an MNC. But initially, I didn't even know how to face an interview. And, fortunately, I successfully cleared the AMCAT exam and got an opportunity with Tata Motors."
Abhilash adds how the AMCAT experience was overall very fruitful for him and minimized the issues that he faced during the job search.
Tell us about the job you got through AMCAT
"I appeared for the AMCAT exam in May 2019 and I unexpectedly passed the exam and got selected for an interview with Tata Motors. Then I passed the job interview and got a job in it. So you can say, that's my story!"
Would you recommend the AMCAT exam to others? Why?
Abhilash says that he would definitely recommend the AMCAT exam to others. To the why, he answers that "AMCAT can help you get direct interviews at MNCs if you pass the exam successfully and get good marks in it."
The AMCAT exam helped Abhilash land a good job with Tata Motors. And, you too can find your dream job and make success your own by scoring well in the AMCAT exam. So, wait no more, schedule AMCAT, start preparing for it, score well, and say Holla to a truckload of great opportunities.