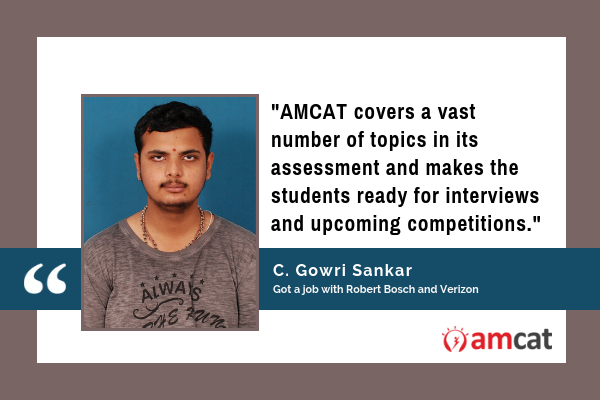 Failures and success are the two sides of the same coin as C. Gowri Sankar found out when he was looking for a job. As he geared up to find his dream job, he came face to face with a lot of challenges.
How he overcame them, and how the AMCAT exam helped him in his journey, let's find out…
Why did you opt for the AMCAT exam?
C. Gowri Sankar says that he opted for the AMCAT exam "to get placed in the best companies."
"I always used to go till the final round of every job interview and then fail at the last step. But the number of opportunities AMCAT offered me never allowed me to feel demotivated by a failure. I kept on trying until I succeed in securing my dream job."
Tell us about the job you got through the AMCAT exam
"I got a job in Robert Bosch and then another in Verizon India through AMCAT. I also got a few interview calls from companies like MindTree and Tata Motors among others."
What about the AMCAT feedback report? How did it help?
"The AMCAT feedback report helped me analyse my weaknesses and helped me in allotting time to strengthen myself and overcome them."
"It helped me gain confidence by letting me know that I am among the best and just need to strengthen myself further to overcome my weaknesses and be successful."
Would you recommend the AMCAT exam to others? Why?
"The AMCAT exam was really good and it tests the students in all the dimensions. It checks their speed, accuracy and clarity of concepts."
"AMCAT covers a vast number of topics in its assessment and makes the students ready for interviews and upcoming competitions."
All-in-all, C. Gowri Sankar had a wonderful experience with the AMCAT exam as it helped him pocket some great jobs and put the fear of failure behind him.
And, you too can pull off a Gowri Sankar and find your dream job with AMCAT. All you need to do is schedule the AMCAT test, do well in it and be open to embracing the opportunities that come your way.