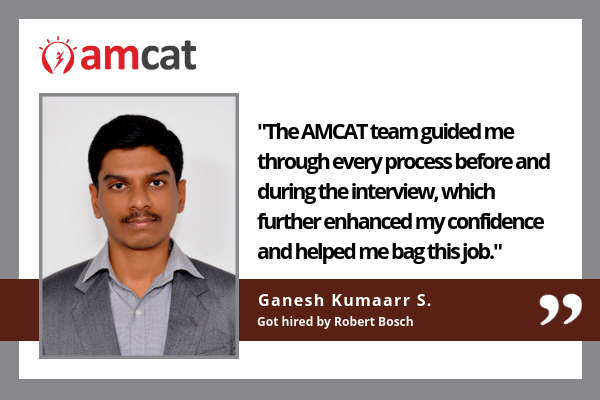 Most of us have big dreams when we first join college. We want to make an exciting career for ourselves, get a good package, have a sense of pride about our work and so on. However, not many get to fulfil all these dreams because not all of us have the AMCAT charm to see us through.
Ganesh Kumaarr too had a job in hand even before finishing college, but he wanted more. Here is his success story and how he, together with the AMCAT exam, found his dream job.
Why did you opt for the AMCAT exam? 
Kumaarr says that he opted for the AMCAT exam "to look for my dream job!"
He adds that during his job search he did not face any particular difficulty. "I already got a job in an IT firm through on-campus placements during my 7th semester. However, I was looking for a dream job with flexibilities which one usually can't get in a regular IT job."
His search for this dream job brought Ganesh Kumaarr to the AMCAT exam.
Tell us about the job you got through AMCAT
"In the 8th semester of my college, I got a message from my college placements team that Robert Bosch was hiring candidates for Associate Software Engineer post through an off-campus drive. However, it could only be attended by candidates having a good AMCAT score."
Ganesh had that and he applied for the job that he wanted for so long. "The AMCAT team guided me through every process before and during the interview, which further enhanced my confidence and helped me bag this job."
"Even after that, the AMCAT team still sent me information about hiring drives that suited my criteria."
How did the AMCAT feedback report help you?
Kumaarr says that the AMCAT feedback report really helped him a lot. "I took two tests. I couldn't achieve the score I desired in the first attempt but after going through the feedback reports, I figured out where I had to improve."
Making note of the report and the points it raised, Kumaarr implemented them in the second test. "It helped me get the desired score and based on which I got my dream job."
Would you recommend AMCAT to others? 
"The AMCAT test is a testament to an adaptive test structure/pattern."
"The feedback report too is very accurate. Both the test and the report help narrow the demands of a company and tailors one accordingly. They together tune a candidate's skills in accordance to his dream job."
Ganesh Kumaarr is the perfect inspiration for never settling down for anything less than you deserve. He knew he needed his dream job and didn't want to settle for anything else. And, together with the AMCAT exam, he finally made all his dreams come true.
Kumaarr has set the way and now you need to follow his footsteps to get the job your heart desires and write your note-worthy success story. So, schedule your AMCAT without any further delay.