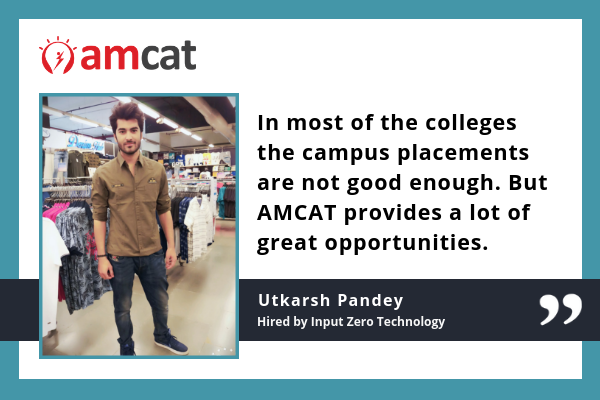 The AMCAT exam can be a perfect boon for freshers. With its adaptive nature, ensuring that everyone faces a different level of difficulty based on their previous answers, AMCAT had proven its mark with recruiters and job seekers alike.
And today, testifying the many values of the AMCAT exam is our AMCAT achiever, Utkarsh Pandey.
Utkarsh is a Software Engineer who got a job with Input Zero Technology through AMCAT. Let's hear what he has to say about the whole process.
Why did you opt for the AMCAT exam?
Utkarsh says that he decided to go for the AMCAT exam because there are a lot of great opportunities that you can explore through it.
Talking about the job he got through AMCAT, he says that "I got placed in the very first company I got a mail from through the AMCAT exam. After a month of this, I received another offer in a company for the software profile. That was a really good experience and a way better opportunity."
Utkarsh recalls that ever since he gave the AMCAT exam, he has been receiving "interview calls almost every week."
WOW!
How did the AMCAT assessment report help you
Utkarsh says that "I realised my weaknesses and worked on them. Since then, my performance has actually improved."
The AMCAT assessment report helped Utkarsh better his current skills and work on his shortcomings, ensuring a brighter time ahead. He understood the point of the whole exercise and decided to act on the AMCAT report to get the best results.
Would you recommend AMCAT to others? Why? 
"I would recommend the AMCAT exam to others because in most of the colleges the campus placements are not good enough. There are not a lot of opportunities available for the students."
"AMCAT provides such great opportunities for a low and affordable price. It can really help students find their dream job."
This was Utkarsh's take on the AMCAT exam and how it helped him grab the best job opportunities. And much like Utkarsh, you too can create your own success journey with AMCAT. So, don't forget to schedule your AMCAT right away and see your career reach new heights.