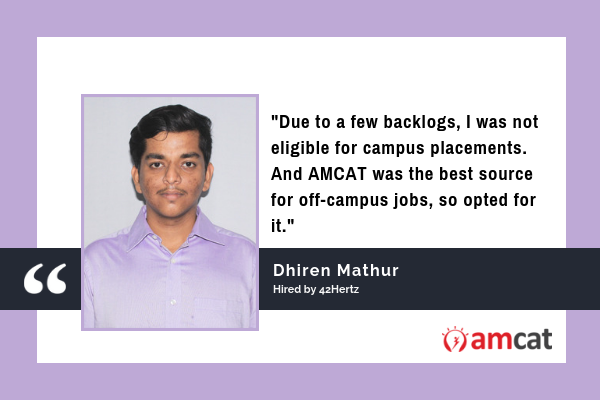 The AMCAT exam has a knack for letting the best of people shine through and can really help them find a good job. And, the same happened with Dhiren as he went on a job search.
Dhiren Mathur, our AMCAT star of the week got a job as Associate Technical Consultant with 42Hertz. Let's check out his success journey.
Why did you opt for the AMCAT exam?
"Due to a few backlogs, I was not eligible for campus placements. And AMCAT was the best source for off-campus jobs, so opted for it."
And, Dhiren's faith in AMCAT was rewarded as he bagged a good job through it and started on a successful journey.
Tell us about the job you got through AMCAT
"I received a job offer in a reputed company. The start-up like work environment meant that there was a flat hierarchy and everyone was approachable."
"People were working on projects that involved many new technologies and everything was very hands-on. This meant, that there was a lot of learning involved."
"That all a fresher really needs – mentorship and learning opportunity. I am hoping to take advantage of this amazing opportunity provided to me by AMCAT."
Would you recommend the AMCAT exam to others? Why?
"Yes", says Dhiren. When asked why, he says that "It is a good portal for off-campus placements. Lots of companies, both big and small, hire through AMCAT. It provides ample opportunity to candidates."
He also talks about the AMCAT feedback report that helped him "assess my strengths and weakness and helped me prepare accordingly."
Any advice for other job seekers? 
"The interview process for every company differs. Some will ask more technically focused questions while some will concentrate more on the theoretical questions. Focus on your fundamentals and cover all your bases."
"Make sure you know everything about whatever you list on your resume and be ready to talk about your side projects."
Wow! That is some very sound advice!
The AMCAT exam can open a portal of new opportunities for you but as Dhiren pointed out, the interview process of every company is different, so you need to prepare accordingly.
If you too have an AMCAT success story that you would like to share, then drop a text about the same and we will reach out to you. And if you are yet to give the AMCAT exam, then stop delaying and schedule your AMCAT test right away!