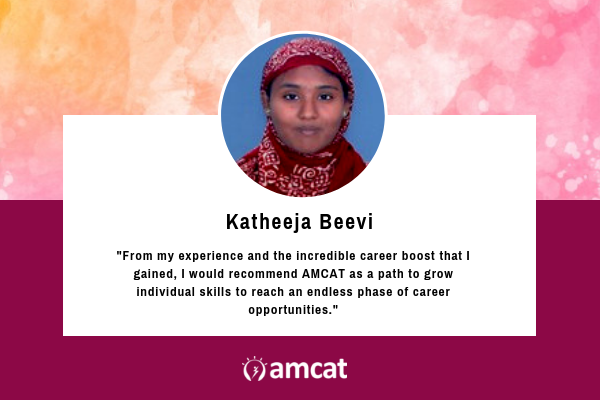 The AMCAT exam is an Artificial Intelligence-based adaptive test. That means, different people get different levels of difficulties on it, based on their answers. However, while its difficulty level may vary from one person to another, there is one thing that is common for all. And that is, once you give the AMCAT exam you are bombarded with the best job opportunities.
Don't believe us? Read the success story of Katheeja Beevi in her own words –
Why did you opt for the AMCAT exam? 
"I preferred the AMCAT exam as it gives a common assessment platform for many recruiting companies. The design of the exam syllabus seemed easy to crack and get a good score by refreshing the major concepts of my core subjects and having some hands-on knowledge of programming, basic aptitude and domain skills."
Katheeja cracked the code that ensured that she got a lot of good job opportunities – score well in the AMCAT exam. And she knew that to score well, your concepts have to be absolutely clear.
Tell us about the job you got through AMCAT
"I successfully received a job offer from Robert Bosch through the AMCAT exam and that too at a very good package."
However, before opting for AMCAT, Katheeja had had her share of difficulties. She shares how during her job search, "I faced difficulties with an unexpected backlog during my final academic year of Engineering. This was against the eligibility criteria of most recruiting companies."
"But I kept preparing with confidence that I will get a chance to showcase my skills when a good opportunity will arrive and it finally did with AMCAT."
How about the AMCAT feedback report? Did it help you in any way?
Katheeja recalls the important role that the AMCAT feedback report played in her life and how it helped her through.
"The AMCAT feedback report took me on a self-analysis journey. It gave me a detailed overview and understanding of my employability skills, personality, vocabulary, technical skills and more."
Would you recommend the AMCAT exam to others? Why?
"Until I got selected in a reputed company with a good salary package as a fresher, I was unaware of the benefits and career opportunities through the AMCAT exam."
"So, from my experience and the incredible career boost that I gained, I would recommend AMCAT as a path to grow individual skills to reach an endless phase of career opportunities."
Wow! We are truly humbled.
Katheeja relied on AMCAT to see her through the difficulties and it didn't disappoint. She soon got a job and career she always dreamt of and put on her success shoes.
Of course, much like Katheeja found a support, guide and success booster in the AMCAT exam, so can you. Just schedule your AMCAT right away and get ready for some brilliant career opportunities.