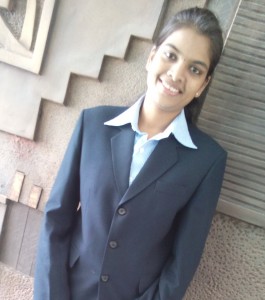 "I attended the interview of LogiQuad solutions and got selected. AMCAT truly helped me in getting a job, when it was really needed."
Piyusha Sanjay Pokharana, SNJB's College of Engineering, 2015 Batch
Aspiring Minds: Tell us something about yourself and your career goals ?
Piyusha: My name is Piyusha and I have completed Computer Engineering from S.N.J.B's College of Engineering.
Aspiring Minds: What difficulties did you face while searching for a job and how did you overcome those difficulties?
Piyusha: I applied, almost everywhere in every company but hardly got any revert. I also attended many job fairs and walk in interviews but it did not serve my purpose. I faced a lot of difficulties cracking the aptitude round of the interview process and had to practice really hard to overcome this problem.
 Aspiring Minds: Tell us about your experience post giving the AMCAT test and how AMCAT helped you in getting the job at LogiQuad Solutions?
Piyusha: After taking AMCAT, I received interview calls based on my AMCAT score from a lot of companies including LogiQuad solutions. I attended the interview of LogiQuad solutions and got selected. AMCAT truly helped me in getting a job, when it was really needed.
Aspiring Minds: Would you suggest other job seekers to take AMCAT? If yes, why.
Piyusha: I would definitely suggest job seekers to take AMCAT test as it helps students to appear for the recruitment process of various companies which otherwise is very difficult. AMCAT provides equal job opportunities for everyone without any sort of unfairness. If you are talented and skilled, you will get good opportunities through AMCAT. Great work!
Aspiring Minds: Would you like to share some tips which can help other job seekers in getting a good job?
Piyusha: Confidence and positive attitude is must if you want to crack the interview. Prepare, practice and give your best shot. Study hard if you wish to take AMCAT test, also solve sample AMCAT papers available online. If you manage to get a good score in the AMCAT test, you will definitely get shortlisted from various companies.