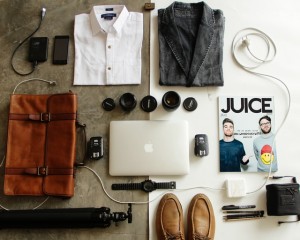 You are walking down the stairs into a client meeting but, WAIT! you notice your reflection in the mirror and you are scattered – your hair is messy, you smell pathetic and your face looks tired and dull. Tensed? To avoid a situation like this, we have prepared a list of things that you should always have in your bag(apart from your wallet, cell phone, and sunglasses)
An emergency pouch: Smudged liner? A make-up pouch is something that you must have in your bag. A kohl stick, a lip gloss, and a face-powder to get away with that dull look. And, yes do not forget to have a small mirror and some wet tissues! For men, a mini face wash, a small face cream, tissues, and a lip balm are some of the necessary items that you must have in your bag to help you look fresh and active.
Hair Brush/ Comb: The meeting is in next 15 minutes and your hair is a mess. No worries! Have a comb in your bag and you are sorted.
Hand-lotion: No one wants to shake a hand that is dry and chapped. So, always carry your favorite hand lotion with you and shake hands filled with confidence.
Perfume/ Deodorant: You always tend to feel better and fresh if you smell good. Do not overuse it but always carry a small bottle of perfume or deodorant with you.
A notebook and pen: It is a must have. Do not go to any meeting, presentation, interview, client meet and conference without a notebook and pen. Plus, it helps you to jot down all those fabulous ideas that you get while traveling in a bus, train, metro or having a cup of coffee at a coffee shop.
Mint or a mouth freshener: You never want to be the one caught with bad breath when meeting a client or talking with your colleagues. Carry a packet of mint or mouth freshener without fail.
Hand Sanitizer: The city is dirty! You never know who is sick and germs are omnipresent. Tuck a little bottle of sanitizer to keep you fresh and healthy
Phone Charger: You have a conference call in 15 minutes and your mobile says "low battery". Worried? Carry that extra charger in your bag to avoid these unwanted situations.
Ear-plug: Trust me they are your savior when you cannot hear what your client is saying at the other end of the line due to the noise around you. Have those special earplugs in your bag to avoid such situations. Plus, you can always listen to your favorite song while traveling in a bus, car or metro.
Some food: Turns out that you have your meeting in next 5 minutes and you are starving. Worry not! The packet of biscuit or protein bar will always bring back that missing energy in you.
A card case: Taking a business card out from a card holder and giving it to someone is 100 times more impressive. Don't you think so?
A bottle of water: You must have it in your bag in order to keep you hydrated and fresh.
A pen-drive: A must have for all professionals. Carry this and have all those heavy but necessary files and documents with you all the time.
A small dry towel and an umbrella: A dry towel is of great help in cleaning those unwanted coffee spills. Have an umbrella to keep yourself dry in case it rains. You never want to show up in a meeting with a stained and wet shirt, do you?
Medicines: You don't want to miss that important meeting for which you prepared the entire week because of a bad headache. So, have those emergency pills in your bag to save you from these undesirable situations.
Stuff your bag with these necessities and conquer the next meeting of yours!!