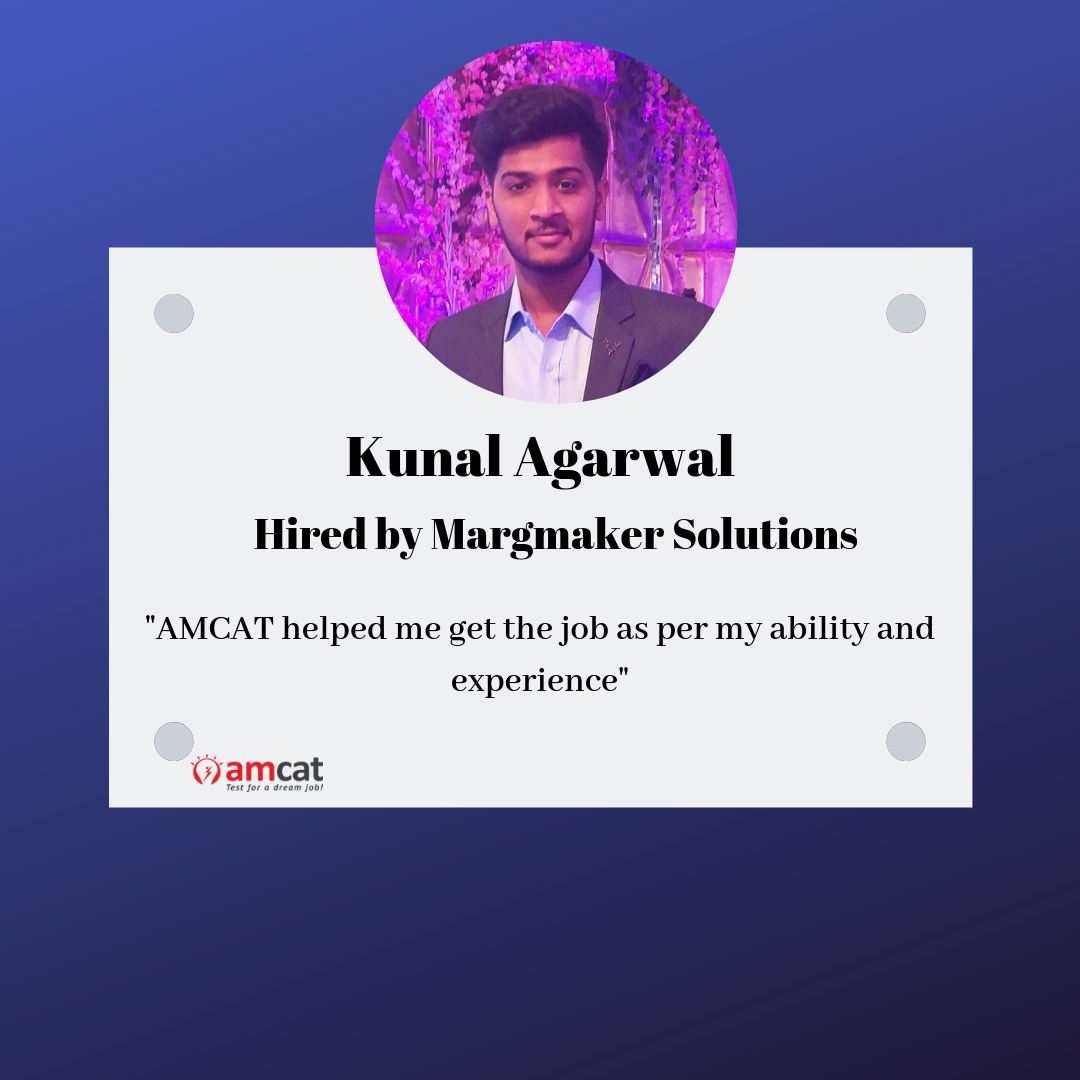 Over the period of a decade, AMCAT has provided career support to millions of fresh graduates (as well as experienced candidates). The countless AMCAT reviews provided by many of these candidates are solid proof of AMCAT's effective mechanism.
Adding to these AMCAT reviews, today, we bring you another success story of one of our recent AMCAT achievers, Kunal Agarwal.
After completing his graduation, Kunal was looking to take the first step in the corporate world. And, it was here that he learned about AMCAT. Without wasting any time, he registered for AMCAT and started preparing for the exam.  This timely decision helped him grab a wonderful job opportunity with one of the leading firms.
Let's hear his story in his own words;
AMCAT reviews by Kunal Agarwal
How was your overall experience with the AMCAT exam?
The experience was great! I was slightly skeptical about how I would do, but it all panned out well. The exam went smoothly, without any issues or difficulties.
Why did you opt for the AMCAT?
I heard about AMCAT while I was in college but didn't really look into it much. But once I was nearing my graduation time, I got a lot of solid AMCAT reviews from my seniors and other batch mates. That's when I looked into it thoroughly and realized that it is an effective platform to find jobs matching my ability and skills.
While looking for jobs, did you face any difficulties?
Not really! I was confident about my AMCAT preparation and got good scores. I was recommended jobs according to my AMCAT score and it matched my interest as well.
Also Read: How to achieve a good score in AMCAT?
How was the interview process at the company? How did you prepare for the interview?
This was my first job interview ever, so I was a little nervous. However, my concepts were very clear so I was sure that I'll do well in the interview. Also, I had got good scores in AMCAT exam, so that helped as well. The overall interview experience was astounding.
Would you recommend AMCAT to others?
Certainly! I'd definitely recommend AMCAT to others. Not only because it is the most helpful platform to find a job, but also because the overall skill assessment mechanism helps in starting a career in a relevant field.
Kunal's AMCAT reviews clearly show that taking AMCAT can not only help find the best fit job but also in enhancing job skills. So, what are you waiting for? Register for AMCAT today and find your ideal job now.
Also read: Top companies that are hiring right now!