Getting a good IT job for freshers in this tough job market is really a big deal today. Let's see how Saiba managed to kick-start her career in the IT industry straight out of college.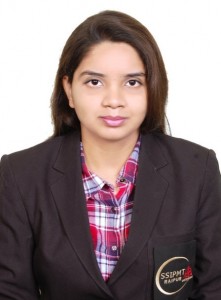 "AMCAT is an easy way to get a good job."
Saiba Sheikh, Shri Shankaracharya Institute of Professional Management and Technology, 2016 Batch
Aspiring Minds: Tell us something about yourself and your career goals.
Saiba: My name is Saiba. I am pursuing B.E. in computer science. I want to be a part of renowned IT firm.
Aspiring Minds: What difficulties did you face while searching for a job and how did you overcame those difficulties?
Saiba: When I started looking for jobs, there were a number of difficulties that I faced. I am from a small town, Raipur where IT companies are few and very limited opportunity and exposure. Then, I came to know about AMCAT, prepared for it and tried to get good score. AMCAT is a very good platform for freshers.
Aspiring Minds: Tell us about your experience post giving the AMCAT test and how AMCAT helped you in getting the job at Mindtree?
Saiba: After taking AMCAT, I was shortlisted for Mindtree and went for the ierview which was arranged here in my city and thankfully I cracked the interview. I am really indebted to AMCAT for the wonderful opportunity it gave me.

Aspiring Minds: Would you suggest other job seekers to take AMCAT? If yes, why
Saiba: Yes, I would definitely suggest job seekers to take AMCAT as it is an easy way to get a good job.
Aspiring Minds: Would you like to share some tips which can help other job seekers in getting a good job?

Saiba: AMCAT test analyses your domain knowledge as well as your aptitude, reasoning and logical knowledge. And, to score good, one need not be the master in all these. An intermediate level of knowledge is sufficient with good time management.
To get that dream IT job of yours take the AMCAT test today!