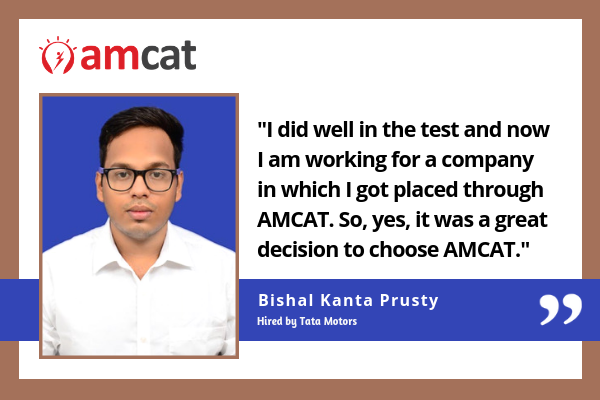 Bishal got a great job through the AMCAT exam in the first attempt. However, in pursuit of even better job opportunities, he recently renewed his AMCAT subscription and we are gladdened by his continued faith in the AMCAT exam.
So, let's read the story of what made Bishal trust the AMCAT exam so much and what his success journey is all about.
Why did you opt for the AMCAT exam?
"I opted for the AMCAT exam as my college prompted it to us. They said that there was a good scope of getting placed through it."
"I did well in the test and now I am working for a company in which I got placed through AMCAT. So, yes, it was a great decision to choose AMCAT."
Tell us about the job you got through AMCAT
"Firstly, I got an interview call from Ivan Infotech for Web Support Associate."
Bishal did well in the interview rounds and left an impression on the recruiters. However, he was not able to attend the later interview due to some personal issues. But one missed opportunity didn't stop him from ultimately getting an even better job offer.
"I got an interview call from Tata Motors for a Sales Executive job. I attended the interview and was selected for it. I am really happy to have this job."
What about the AMCAT feedback report? Did it help?
"By attending more and more interviews through AMCAT, I was able to enhance my communication skills. Something which is even now helping me with my work."
The AMCAT feedback report made Bishal realise his weakness and gave him an opportunity to work on it. The result being, today he is more confident about his skills set.
Would you recommend the AMCAT exam to others?
"Yes", says Bishal.
He says that "for a student who is trying to get placed, AMCAT is the best platform to get a good job. This is because a lot of companies and even MNC hire through it and call candidates for interviews."
Bishal, with his unwavering faith in AMCAT, and continuous section has made us proud. And, we are sure that you too can pull off a Bishal with some AMCAT charm and a sprinkle of hard work.
So, renew your AMCAT subscription if you already have one or schedule the AMCAT test if you are just venturing into these waters, to be able to write your own success story.