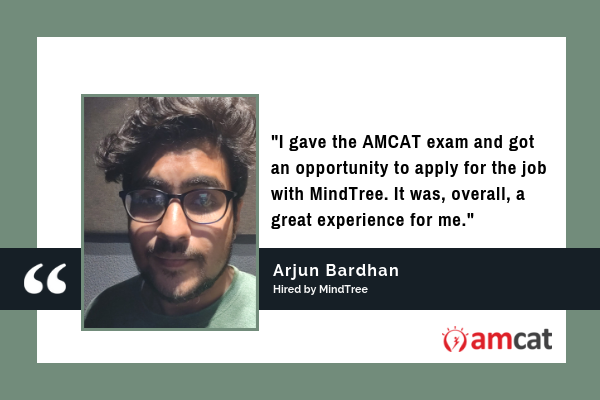 The AMCAT exam with its smart AI and adaptive ability has made its mark in the jobs' market. And, celebrating the AMCAT success with us is Arjun Bardhan who got a job with MindTree through it.
Let's see what he has to say about his whole AMCAT journey.
Why did you opt for the AMCAT exam?
Arjun got to know about the AMCAT exam through his friends who "told me it is a good platform to get good jobs in the best companies."
Tell us about the job you got through AMCAT
Arjun, who got a job with MindTree through the AMCAT exam says that "it was a life-changing experience."
"I gave the AMCAT exam and got an opportunity to apply for the job with MindTree. After the interview, I got the offer letter. It was, overall, a great experience for me."
Arjun further talks about the AMCAT feedback report and how it turned out to be a boon for his career at it helped him better his performance. With its eye set on all aspects of skills and recruitment, the feedback report guided him through the whole job landing process.
Would you recommend the AMCAT exam to others?
"Yes", says Arjun. He states that he would recommend the AMCAT exam to others "because as a student, you will get a lot of job options from your favourite companies."
Thank you, Arjun! That is what we have been aspiring for and hope to keep bringing the best opportunities to all deserving candidates. 
As Arjun made his mark and found his dream job with one of the best companies in the technical field, so can you. So, schedule your AMCAT test right away, aim at a good score, make full use of the AMCAT feedback report and say hello to tons of opportunities coming your way.