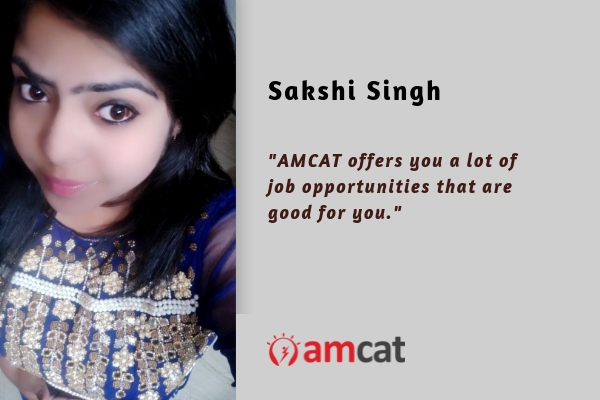 Getting a job, that too a job you enjoy and love is a tough task these days. The competition is way too high and the jobs not enough. The recruiters are now pickier than ever, and why not, everyone wants to hire only the best.
However, while schools and colleges teach us a lot of things, sometimes they forget to make the students employment-ready – a common by the employers. The focus is only on the marks, so much so, that the skills possessed by the students are often neglected.
However, with the AMCAT exam, that all changes.
Being employment ready with the AMCAT exam
We don't claim to be experts but then there are testimonials like this one by Sakshi Singh that warms our heart and reminds us how the AMCAT exam is succeeding.
Sakshi Singh, a recent graduate found hope in the AMCAT exam. As she let her skills-set take over, she received more and more interview calls.
"I received a lot of calls for jobs via AMCAT and it was so interesting to find them."
What Sakshi found interesting also re-affirmed something we already knew, and that is, the AMCAT exam makes you employment ready. Irrespective of how you score in your college or which college you come from. If you do well in the AMCAT exam, you will receive the right job offers.
Sakshi also added how AMCAT is "the best employability source. It helps you find the best possible job."
After AMCAT
The AMCAT exam can bring in lots of job opportunities for you. However, how you handle these opportunities is completely up to you.
After giving the AMCAT exam, you will be expected to sit for the interview and impress the recruiter. And, for that-
"You just need to be confident whenever you are facing any kind of interview."
Sakshi Singh also added that
"Don't let the interviewer know that you are nervous about anything. Be clear and confident with your answers. Read the company profile and try to answer the questions based on your readings."
That is exactly what we keep telling you too.
Confidence is the key that can open the lock of success in a job interview. And, to ensure that you are confident during the job interview and ready to make the best of the opportunity provided to you by scoring so well in the AMCAT test, you need to start practicing.
Work on your body language. You cannot help but betray your nervousness if you are fidgeting or if your legs are shaking. So, practice to appear and be more confident. Mock-AI – an interview preparation tool can help you a lot here.
How you do in the job interview, along with your AMCAT score can really set you up for a long, fulfilling career.
If you are eager to write your own success story and let other students see you as an example, then take the AMCAT exam today.
For any doubts, advice or queries, drop your thoughts in the comments section below.