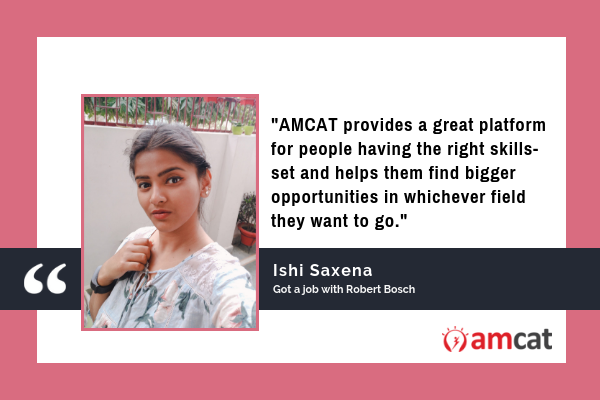 Getting a good job can be a real tax. And, most people are forced to settle for a job which undermines their skills because they got no opportunity to prove them or because there were not enough opportunities available around them.
The AMCAT exam works to make job search easier for such candidates who just need an opportunity to prove their skills and commitment. And, Ishi too found a similar opportunity with the AMCAT exam. Let's see what her journey was all about…
Why did you opt for the AMCAT exam?
Ishi says that she opted for AMCAT to "check my skills and get myself placed in a good organisation."
She states how before giving the AMCAT exam she faced a lot of difficulties. But that all changed after AMCAT made its entry in her life.
"After I gave the AMCAT exam it gave me bigger opportunities than I could ever imagine. Before giving the exam, I was not able to bag jobs in big organisations because I had no path to it. But AMCAT provided me with guidance and support."
Tell us about the job you got through AMCAT
"I got placed in Robert Bosch through AMCAT. I even got interview calls from Verizon, MindTree and many other organisations like Vedantu. And got an offer from Aspiring Mind itself."
How did the AMCAT feedback report help you?
"Through the report, I got to know about the kind of organisations I would do best in – software companies or other hardware companies."
"I got a detailed feedback report about my performance in different sections like Aptitude, English, Logical Reasoning, etc. It enlightened me about the fields in which I needed to improve."
Would you recommend AMCAT to others? Why?
Ishi says that yes, she would recommend the AMCAT exam to others. "AMCAT provides a great platform for people having the right skills-set and helps them find bigger opportunities in whichever field they want to go."
"People should take the AMCAT exam so that they are able to identify the sections in which they lack and ways in which they can improve them or prepare well for them."
Thank you, Ishi! 
The AMCAT exam has proven itself again and again. And it is time that you made full use of
all the opportunities
that come your way through AMCAT and get a job that you would be proud to write us about.