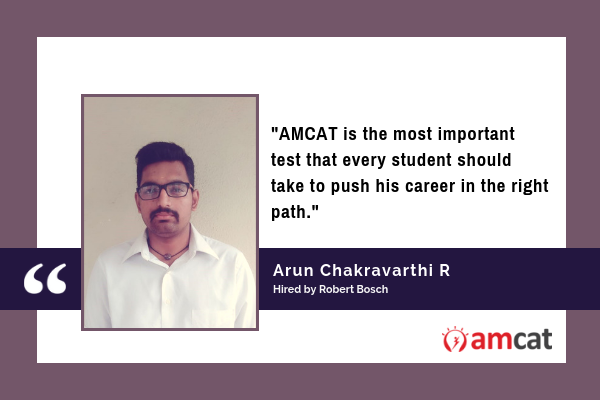 The AMCAT exam is an adaptive test that moulds itself around how you answer the questions. And, this smart adaptive ability and reliance is what makes AMCAT such a hit among recruiters.
And, Arun experienced the charms of the AMCAT exam first hand as he opted for his dream job through it.
Let's find out what he has to say about his AMCAT journey…
Why did you opt for the AMCAT exam?
Arun was first introduced to AMCAT through his college and knew AMCAT as "the recruitment agency for all the leading corporate companies."
However, his real brush with it came when he got a job with BYJUs but later resigned. By this time, he was not allowed to sit for campus placements and that is when he decided to go for the AMCAT exam.
Tell us about the job you got through the AMCAT exam
"I applied for off-campus jobs through the AMCAT exam. And, I even got two job offers through it. One with NTT Data Services and the other with Robert Bosch."
And not just that, even after getting successfully placed, Arun says that "I regularly used to get emails from AMCAT regarding off-campus drives happening throughout the country. It even filtered the jobs based on my skills."
What about the AMCAT feedback report?
Arun says that he is really appreciative of the AMCAT feedback report. "It gave me a detailed report of my skills and analysed my character through psychometric questions."
"The most important part that I liked about it is that it explained my coding skills through the Automate sections and gave me the idea on how to optimize my skills. It also categorized my skills under various jobs."
Would you recommend the AMCAT exam to others? Why?
"Yes", says Arun, adding that "it is the most important test that every student should take to push his career in the right path."
"The AMCAT exam will give him a clear picture of where he stands among others and how he should develop his skills set. This will also help him find the right job which can eventually help him touch new heights."
Arun made full use of the AMCAT package and so can you. Just schedule your AMCAT test, score well and get opportunities of a lifetime through the AMCAT exam.