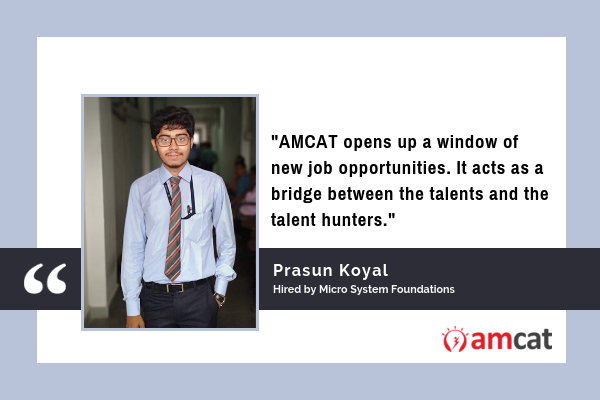 The AMCAT exam can be a perfect job gateway opportunity for a lot of people. After all, the 450+ companies associated with it and the more than 1650 campus drives that it holds in a year has got to count for something!
Prasun Koyal too found such numerous opportunities with AMCAT as he followed the path of many before him and opted for the AMCAT exam. Let's see what his success story is all about –
Why did you opt for the AMCAT exam?
"I came to know that people get a lot of job opportunities and in most cases, one gets directly shortlisted for interviews after giving the AMCAT exam."
"So, I was keen to appear for AMCAT and our college placement cell also insisted on the same."
Did you face any difficulties while looking for a job
"Well, in a desperate search for a job, I registered with a number of job portals. But in most of the cases, the offers that I received were not suitable for me. In fact, some of them very not very reliable either."
Tell us about the job you got through AMCAT?
"Before I got the job in Microsystem Foundations, I got a number of interview calls from reputed companies, based solely on my AMCAT score. However, due to some problems, I failed to appear for them. But when I got this call, I was, fortunately, able to clear the interview."
"Even after getting a good job I am still receiving interview offers from a number of good and reliable companies."
"Thank you, AMCAT for helping me in getting my first job."
How did the AMCAT feedback report help you?
"The AMCAT feedback report is seriously a very useful tool as it analyses one's strengths and weaknesses based on their score in a very detailed fashion."
Prasun also adds that apart from this detail the feedback also provides feedback on the areas in which one should improve in. He further adds that "It really helped me understand my faults and guided me a lot in rectifying them."
Would you recommend the AMCAT exam to others? Why?
"Firstly, AMCAT according to me opens up a window of new job opportunities. It acts as a bridge between the talents and the talent hunters."
"Secondly, the companies who schedule interview calls on the basis of the AMCAT score are all quite reliable and reputed."
Prasun has a lot of brilliant takeaways from his whole AMCAT experience and we wish him immense luck in all his future endeavours. And, much like Prasun, you too can make the most of all the benefits of the AMCAT exam and enjoy the perks of a successful career.