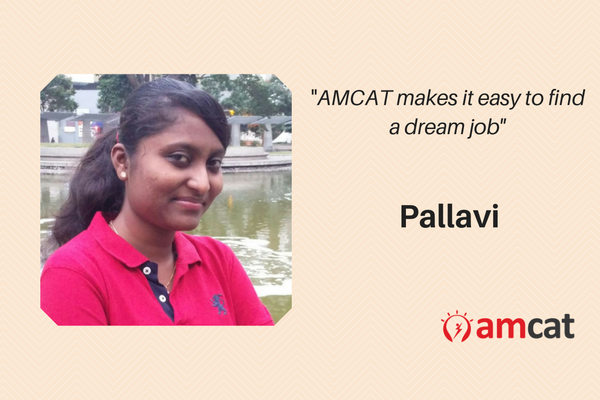 Meet Pallavi, a fresh graduate from Methodist College of Engineering and Technology and know how she managed to kick-start her career straight out of college just by giving AMCAT.
Q: Tell us something about yourself and your career goals.
My name is Pallavi. I did my B.Tech from Methodist College of Engineering. I want to learn technical skills and grow high in my career.
Q: What difficulties did you face while searching for a job and how did you overcome those difficulties?
It is difficult to find jobs in such a competitive world, whether it is on campus or off campus. But AMCAT has made it simple, just give an exam and companies will come to you.
Q: Tell us about your experience post giving the AMCAT test and how AMCAT helped you in getting the job at Mindtree?
After 1 week of appearing for AMCAT I got my score and based on my scores I was shortlisted for Mindtree with the help of AMCAT team. That was the most overwhelming moment in my life.

Q: Would you suggest other job seekers to take AMCAT? If yes, why
Yes. I took AMCAT exam in my college itself. But you can apply online and book the slots. AMCAT does everything for us, we just have to take an exam and wait for our dream job. We need not invest our energy or time in searching job portals or company websites to apply.
Q: Would you like to share some tips which can help other job seekers in getting a good job?

Focus on Quantitative Ability, Reasoning skills along with your domain knowledge. Practice well before going for the exam and give it with confidence. All the best 🙂