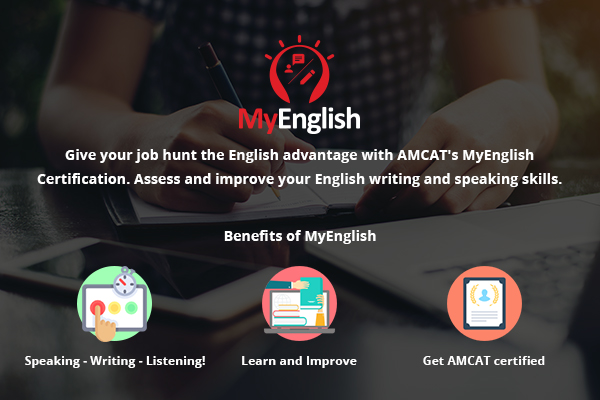 We are aware of the fact that if you have to perform in the global market, your English has to level up. For those who are already having a jet-pack joy ride in their careers, don't have to worry. For those, who are termed as less "employable" after every interview, take notes and an English grammar test. If you always struggle a little more in your soft skills and have it hard while competing for jobs, keep reading.
So, you have your core competencies all brushed up for that job but fear the interview or the job itself because English gives you a fever. Landing straight on the solution; there are plenty of tools to help you hone this sector of your employability.
Try and see it for yourself how you can use our new tool, English, to analyze your English competence.
MyEnglish incorporates the latest Machine Learning and Artificial Intelligence technology, only to evaluate your English speaking, writing and listening skills accurately. Not only that, it also provides you with a crisp nuanced feedback on your strong and weak points. After the detailed feedback, you can also use the recommendations and tips MyEnglish provides for improvement.
MyEnglish in Brief
Speaking – Writing – Listening
Evaluates you for your grammar, content appropriateness, fluency, and pronunciation.
Learn and Improve
Get detailed diagnostic feedback report along with resources to improve your English speaking and writing skills.
Get AMCAT certified
Give your job hunt the English advantage it needs by getting the industry recognized AMCAT certification.
MyEnglish in Action
Step 1
Assess your English skills with a computer based test for writing and speaking skills.
Step 2
Answer questions in form of text and audio responses
Step 3
Get evaluated on a range of parameters for your English skills & get detailed feedback report.
Step 4
Earn AMCAT Certification and showcase it to employers
A Few Perks
AMCAT Spoken English Proficiency Certificate
Endorse your English speaking skills. Get recognized for your ability and showcase it to employers with the help of Spoken English Proficiency certification.
AMCAT Written English Proficiency Certificate
Earn recognition for your English writing ability with the help of Written English Proficiency certification.
Detailed Feedback Report
An 8-page detailed report
Know your scores on 12 different parameters
Acknowledge where to improve your Writing Skills
Acknowledge where to improve your Speaking Skills
Analyze your performance- where you were good, where you should improve
List of resources to improve your English
As the Aspiring Minds report states, 91% of graduates are not employable because of their poor soft skills. Moreover, people with excellent English speaking skills tend to earn 30-40% more than people who can't.
Thence, before the vital but invisible Hiring Funnel sits and filters your resume along with the n number of competitors, register with MyEnglish to have a happy fall into the selection pool!
Try MyEnglish and see for yourself. Let us know your views and feedback in the comments.