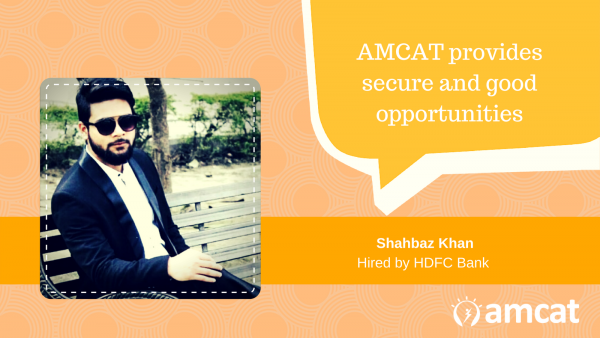 I have completed my B.Tech in Electronics & Communication Engineering. My hobbies are acting, playing cricket and net surfing. I am looking for a stable and growing career.
Q. While looking for a job, did you face any difficulties? If yes, which ones. And why did you opt for the AMCAT test?
Shahbaz, quite satisfied with the AMCAT and his result says, "While looking for jobs, I found out that there were many fake job postings. As a result, I took the AMCAT test after my friend suggested for me to take it".
Achieve Success with the AMCAT
Q. How was the AMCAT test experience?
Shahbaz believes in self-learning prepared for the AMCAT himself. "I prepared online and my experience with the test was great. As it is an adaptive test, I had a smooth experience during the test. So, when I scored decent marks in the test, I expected a good number of interview calls".
Q. When did you get your first interview call? How many did you receive?
"I got my first call one week after AMCAT. I got a lot number of calls from different companies."
"As I scored well, I expected a good number of interview calls"
Q. How was the interview process at the company? What helped you through it?
Consequently, as he talks about his successful interview, Shahbaz says, "There was an aptitude test and a personal interview at the company. Since it is a reputed company, there were around 1000 candidates which included both, fresher and experienced. The aptitude test for the process was also conducted by AMCAT only. The interview went well. The interviewers asked me about my projects, job description and my knowledge about the company. It was more like an MR interview. They gave me a situation and asked for the solution".
Recite Your AMCAT Success Story
Q. Would you recommend the AMCAT to others? If yes, Why?
"Yes, I would definitely recommend the AMCAT to others, especially freshers. The reason is that it is difficult for a fresher to get genuine jobs. There are several fake job postings. In the end, I would say that AMCAT provides secure and good opportunities to the job seekers in start-ups as well as MNCs".
"AMCAT provides secure and good opportunities"
Q. In the end, do you have any tips that can help other job seekers in getting a good job?
"Go through indiabix.com for quantitative and analytical tests and follow some books like R.S. Agarwal or M.Tyra. For Computer Science and programming: go through OOPS concept, basic data structure, basics of DBMS and COA. Also, for the English section read the passage very carefully and only then answer. Don't waste the time on a single question if you are not able to solve that.

Inspired much? Tell us your job search experience. For more updates on the AMCAT, success tips and employability news, stay tuned.