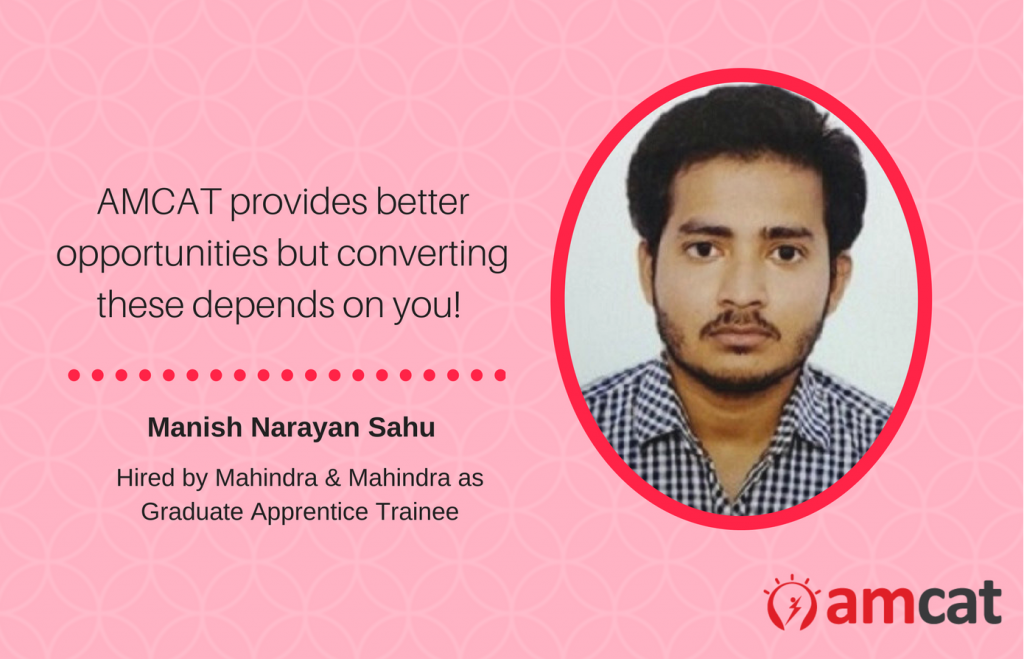 A job search exercise can be boosted by using the right channels, according to our AMCAT success story of the day – Manish Narayan Sahu. The 2017 graduate has made it through to a Mahindra & Mahindra job with the AMCAT Test. And this is a gist of his journey to the coveted fresher job!
A Testimonial for The AMCAT:
Sahu, a mechanical engineer who graduated this year from the ABES ENGINEERING COLLEGE was motivated to take the AMCAT test by his college.
"I took AMCAT test because my college told me that it is the best platform to get a job easily. The rest is up to you because they can provide you with the opportunity, but to convert that opportunity totally depends upon you."
And so, he sat down to give the exam on his college campus.
We asked him about his overall take on the AMCAT Test. He said, "The AMCAT is a combined test, which includes all sections that can check your knowledge, aptitude and thinking skills." He described his experience in preparing for the test and giving it as a decent run.
Getting the Mahindra job:
We asked him about the interview calls he received after he got his AMCAT result. He said, he started receiving interview calls from the very first week. Till date, he has received countless interview calls, including the call for the Mahindra job.
We asked him, how was the interview process at Mahindra & Mahindra. Sahu termed it as a challenge, claiming that he was able to get through because he had prepared for it alongside his department.
Here's his take on his overall experience:
"If you need an opportunity, specifically a better opportunity, then you should definitely try the AMCAT test. However, you do need to work on converting that opportunity."
How?
"First work on your personality, then on your communication skills as they play a major role in your selection."
Congratulations, Manish Narayan Sahu, for closing on the Mahindra job as a graduate apprentice trainee. We hope that your experience serves as a guiding tool for many others, who are currently in their job search.
And if that's you, we hope you consider scheduling an AMCAT test today.